Michigan Grown Hops: The Industry's Best Kept Secret
Earlier this spring, Hang 'em High Hops reached out to us to see if there was any interest in running brewing trials with their versions of proprietary Great Lake Hops (GLH). We jumped at the chance because their lineup of hops appears to be perfect for the IPAs we brew most often.
Michigan Grown
Michigan is not known for being a hotbed for growing hops, but it's actually the largest producer outside the Pacific Northwest. Michigan hop growers have seen their hop producing acreage fluctuate in recent years: Starting in 2014, when USAHops first started reporting on Michigan's production, Michigan hop growers harvested a total of 300 acres. The acreage ballooned to 810 acres by 2017, and has seen a steady decline ever since.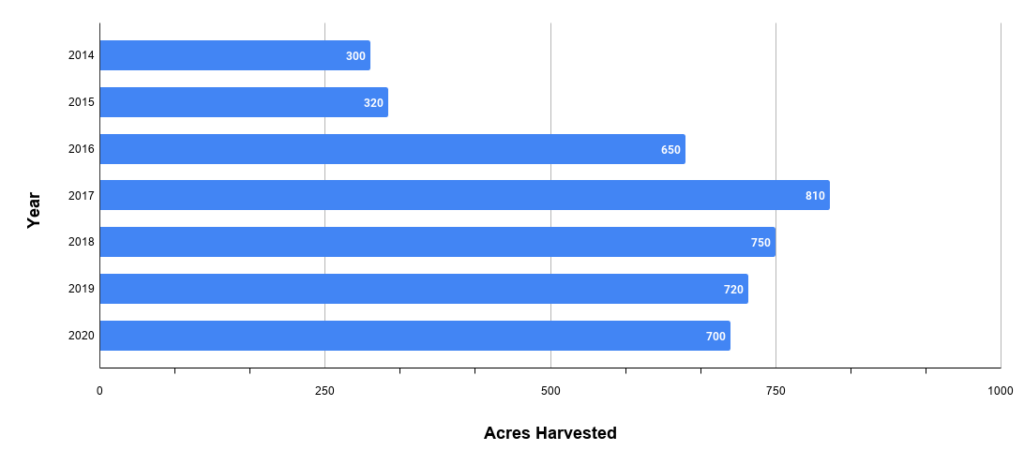 However, don't mistake this reduction in Michigan grown hops as a reflection of their quality. Michigan's farmers don't have wildfires or drought to contend with as those do in Oregon, Washington and Idaho do. In fact large breweries from Ohio, Michigan and beyond regularly scoop up as much product as they could – the surety of supply is Michigan's greatest asset – but unfortunately growing hops is really hard work.
Unfortunately, even before the 2020 pandemic, independent hop yards were struggling. Hop growing is an expensive endeavor, and not a profession to get into lightly. Hop producers need to be in it for the long haul. The necessary facility and machinery investments will take years to recoup. Add in the margin squeezes that have forced some breweries to look for cheaper hop options, and owning a hopyard is not for the faint at heart. In fact, the membership of the Hop Growers of Michigan alliance has dropped from a high of 110 to just below 40, with only 11 farm members attending the last 2020 meeting.
However, Michigan is still poised to be a huge producer of hops as we all emerge out of the year-long lockdown. The lineup of proprietary varieties from Great Lake Hops will make it all the easier for more breweries to fall in love with.
Hang 'em High Hops
We were given the opportunity to sample what Michigan has to offer by Scott and Todd Mast over at Hang 'em High Hops. He and his team sent over seven proprietary Great Lake Hops (GLH) that were grown at their 28-acre farm upstate in Freesoil, Michigan. Hang 'em High Hops was started way back in 2014 under the name Mast Brothers Farms. In 2018, they transitioned away from some of the more commonly grown hops to Michigan Proprietary Hops bred by GLH.
Working hand-in-hand with Great Lakes Hops Breeding and Sensory Research, Hang 'em High has become the largest commercial partner of the program, growing some of the best hops currently coming out of Michigan.
Also, in an effort to achieve the most stable quality as possible, Hang 'em High is actually part of a "grow group" of six local farms that combine for 98 acres. These farms blend their hops together as one to create a consistent product for brewers. The six farms within this grow group are Pure Mitten Hops, Mr. Wizards, Firehouse Hops, West Michigan Hops, Two Track Farms and Hang 'em High Hops. The blending and processing of the hops is done by MI Local Hops out of Williamsburg Michigan. MI Local Hops is the largest pellet mill in Michigan and has capabilities to blend over 1,800 pounds an hour creating over 1,000 pounds of pellets.
The Hops
The hops we were sent by Hang 'em High are only available out of Michigan. You will not find these varieties grown in the Pacific Northwest like almost all other popular hops. I'd actually not even heard of a few of these varieties before being sent the samples, so we were super excited to get our hands on them. The seven hops we got were either aroma or dual-purpose varieties, and were: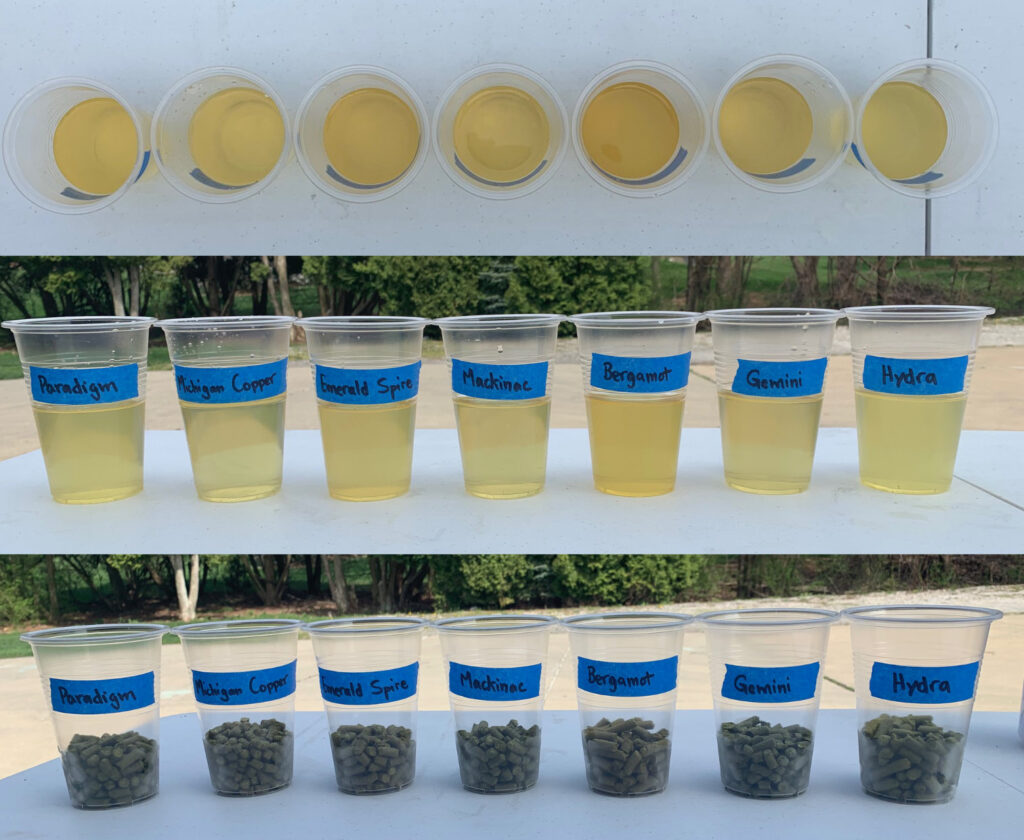 Aroma Testing
We decided to take a multi-phased approach of analyzing these hops. We first took notes on how the raw pellets smelled, then made a hop tea with them. Furthermore, we are also currently gearing up to brew a New England-style IPA with in order to get the full idea of what the aroma and flavors are of these Michigan-grown hops.
Our recipe for the Michigan Hazy IPA will be published in a few months after we've finished with the brewing.
Alpha Acids: 9.84%
Total Oil (mL/100g): 1.49
Aroma Tags: Black Pepper, Citrus, Floral, Red Candy
Mackinac hop pellets were a dark green color and had an aroma of equal parts spicy/black pepper and citrus. When brewed in a hop tea, we got intense floral notes and red candy or a sweet fruitiness on the nose. The smell from the hop tea was very different from the raw pellets, but goes to show you the range of this super-aroma hop.
Alpha Acids: 6 - 9.57%
Total Oil (mL/100g): 0.90
Aroma Tags: Fresh Hay, Eucalyptus, Black Tea
Gemini was probably the most neutral variety in the trial, with virtually no fruit notes from this hop. However, we did get aroma notes of fresh hay and eucalyptus from the raw pellets and after brewed, you could have sworn it was a cup of black tea. This was a very refreshing and muted hop that we can see being used in just about any style of beer.
Alpha Acids: 10.15%
Total Oil (mL/100g): 1.40
Aroma Tags: Black Cherries, Resin, Berries
Michigan Copper had the most unique aroma out of the seven varieties in this trial. In both raw pellet form and in the hop tea, intense black cherry was the predominate descriptor. Simcoe is known as the most intense berry-flavored hop, and for good reason. However, Michigan Copper is giving Simcoe a run for its money.
Secondarily, we also smelled a bit of pine resin with the raw pellets, but that faded a bit in the hop tea. It was a welcomed aroma that helped round out the sweetness we got from the cherries a bit.
Alpha Acids: 9.06%
Total Oil (mL/100g): 1.55
Aroma Tags: White Wine, Fruity, Juicy
When we first smelled Emerald Spire hops, we were blown away. It immediately reminded us of Nelson Sauvin hops, but less potent. They also had an intense burst of juiciness, that GLH refers to as Juicy Fruit… which in our opinion describes it perfectly.
Nelson Sauvin hops are the most sought after hops coming out of New Zealand, and are typically quite expensive. Brewers that want to add a punch of white wine to their beer seriously need to consider Emerald Spire as a viable alternative.
Alpha Acids: 8.43%
Total Oil (mL/100g): 2.17
Aroma Tags: Sweet, Mint, Stone Fruit, Tropical Fruit
Paradigm was one of our favorites from this trial. I am on record for being a huge Hazy IPA fan, and I think this hop is perfect for that style. We got strong notes of various tropical and stone fruits, contributing to a very sweet aroma at first blush. Lighter hints of mint and maybe bubble gum round out this extremely fruity hop.
Alpha Acids: 11.96%
Total Oil (mL/100g): 1.90
Aroma Tags: Bright Citrus, Apricot, Tropical Fruit
Hydra hops are probably most similar to Citra in our opinion, which would likely be a welcomed comparison by GLH. Out of all the varieties in our trial, this hop had the strongest aroma right out of the bag.
Hydra immediately comes at you with intense and bright citrus aromas as soon as you crack open their pouch. After brewing, the citrus fades a bit, but is still the most dominant aroma to be found. Lighter hints of fruit are in the background, as we picked up some apricot and tropical notes.
Alpha Acids: 10.66%
Total Oil (mL/100g): 2.27
Aroma Tags: Dank, Floral, Orange Citrus
Bergamot hops come at you hard with dank aromas that you commonly only associate with more common hops like Galaxy, Strata or Columbus. The medium-to-high myrcene levels also contribute to the pervasive orange citrus flavors that are very noticeable from this hop. Occasionally we got floral notes from Bergamot as well, but they took a major backseat to the orange and dank aromas.