Hops are the flowers that are grown on the female plant's bines. They resemble little green pine cones and can be dried or used fresh in brewing beer.
In order to grow hops yourself, you will need to purchase or find a rhizome of that particular plant. Rhizomes are parts of the root system of a plant that will allow you to restart a new plant.
In the past we looked at the process to grow your own hops at home. We discussed the best soil type, optimum sunlight levels and the perfect time of year to plant the rhizomes. What we didn't talk about are the best varieties to grow yourself.
What You Cannot Grow
Unfortunately, every variety of hop is not available to be homegrown.
Don't expect to grab Citra or Mosaic rhizomes and start growing all of your favorite hops. Patented hops like these two are not available to home growers like us.
So how can you tell if a hop is available to be home grown?
Well, for starters, our database of over 260 hop varieties from around the world indicate whether a cultivar is "owned" or not. Any hop that isn't proprietary can technically be grown at home. The question then becomes where to find the rhizomes.
I sifted through or database for you to find the most popular hops you can grow yourself, along with some tips from the home growers that have already attempted it.
Grades of Rhizomes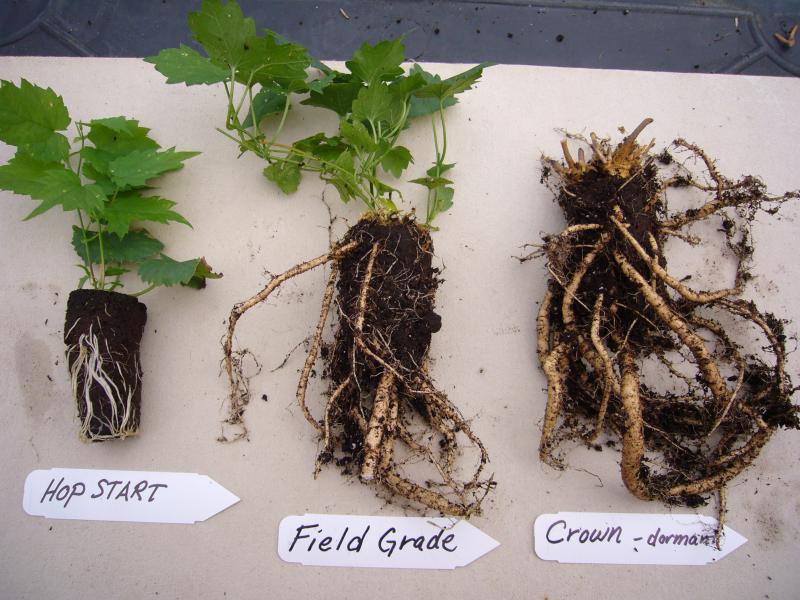 When looking at hop rhizomes, you'll notice that there are a few different classifications of the rootstock.
Hops marketed as "field grade" are generally at least 4 months old with a well established root system.
Hops not marked as field grade are generally picked from older stock and are generally larger, more mature plants of varying size.
"B" grade rhizomes might be small, have minor cuts or have less growth nodes than normal. We suggest you plant more than one of these per hole.
It is also important to pick up more than one at a time. It is not uncommon for a rhizome to die after being planted. Rhizomes are cheap enough that we recommend purchasing at least a couple different varieties as well as a few rhizomes of each. It can take up to 2-3 years to produce meaningful yields from homegrown hops, so you wouldn't want to waste a year by planting a dud or two.
Some varieties are more heat-resistant than others, and some are more susceptible to molds, diseases and pests. However, hops are generally hardy once established for a few years in the ground.
The last thing to look at when buying hops is to determine if you want to grow bittering, aroma, or dual-purpose hops. Our suggestion if you're new to growing hops, is to choose dual-purpose hops, as they will be the most useful.
Location, Location, Location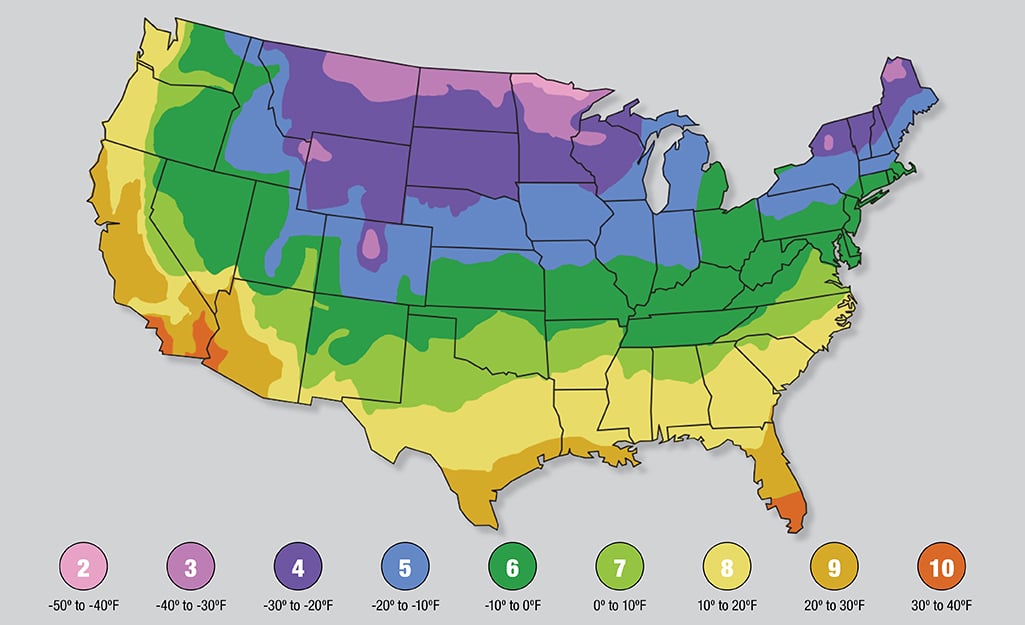 While hops will grow in just about any climate, it is important to pick a variety that is known to do well in your area. Hops grow best in US hardiness zones 5 through 8.
If the growing season is either too hot or cold, hops may become stressed, leading to off-flavors like onion or garlic. Hops need to get at least eight hours of sun a day, though some extra shade helps in hotter environments.
Making the Purchase
There are a lot of places online to buy hop rhizomes. Heck, your local LHBS may even have a couple come spring. Many online stores will begin taking preorders for the next season immediately after hop harvest – usually late September (in the Northern Hemisphere). Plan on receiving your new plants in the spring. It is best to get them into the ground immediately after receiving them.
A few of my favorite online stores to buy hop plants are:
Grow Some C-Hops
Cascade
Cascade is the hop variety that made hops famous. It single-handedly defined the American Pale Ale style. Defined by its citrus, and often more specifically grapefruit flavor, this hop accounts for around 10% of the US's harvest of hops. Cascade …
Alpha Acids: 4.5-9%
Beta Acids: 4.8-7.5%
Cohumulone: 30-40%
Country: USA
Purpose: Dual
Total Oils: 0.7-2.5 ml/100g
Profile: grapefruit, floral, spicy, citrus & pine
Learn More →
C-hops are used an enormous amount in IPAs. Luckily for you, all but one of the hops that make up this group are available to be grown at home.
High-Alpha Bittering
Nugget is the recommended mid-alpha bittering hop for beginners.
Old World Flavor
East Kent Goldings – Genetically all the Golding variants are the same, it is terroir – the natural environment – that makes hops unique. So "East Kent" flavor is from the Golding hop being grown in Kent's brick-earth over a deposit of chalk. Many times you will simply see this variety labeled as "Golding" when sold as a rhizome.
Hallertau Mittelfrüh – Quite possibly the most iconic of all German hops, this hop is considered a difficulty for home growers. It has low alpha, low cohumulone, low oils and poor storage ability. Consider Mount Hood as an easier alternative to this variety.
Spalter Select, Fuggle or Saaz – These noble hops will provide their distinct European flavors, but usually with much lower yields than the hybrids (almost all others we've listed on this page).
Dual-purpose hops will give you the most bang for your buck. Any yield coming from a dual-purpose hop plant will provide you a product that will work for either aroma or bittering.
Mount Hood – Tends to be vigorous, higher yielding, and nearly seedless, which is a bonus for hop happy craft brewers. It has nearly identical aroma qualities as Hallertau Mittelfruh, but is much easier to grow in the US.
Perle – This German dual-purpose hop has been time-tested in the US, being released in the states in 1978.
Go Exotic
Featured photo of Chinook hops by Mark Ahlness.