Beer Maverick was started in early 2020 as a way to share all the knowledge and information I've gained over my home brewing career. I also buy just as much beer as I brew, so you'll see a good mix of crossover information where the two side intersect.
We write long form and in-depth how to articles, experiments, product and craft beer reviews and more. One of our proudest accomplishments is that we've also compiled the web's largest searchable database of beer ingredients. Over 300 hops, 430 yeasts and all the major grain categories are listed with essential information needed by brewers and drinkers alike.
We have available advertising options as well.
About Chris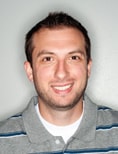 I live just north of Pittsburgh, PA with my kids and wife surrounded by some of the best breweries in the area.
While Beer Maverick was started in 2020, I've been a craft beer fan and homebrewer for years. My first craft beer was Bells Two Hearted over 12 years ago, and I was instantly hooked. Since then I've travelled the country trying local libations and perfecting my own homebrewing skills.
Before Beer Maverick, I worked in technology. In 2019, I left a pretty successful career in Ad Tech to focus on my own endeavors. I had already created a handful of websites that were successful, but everything beer related was still my true hobby. After doing a lot of thinking in COVID quarantine, I finally decided to merge my passion and tech skills to make this site.
Thanks for visiting!