The Complete History of the Citra Hop
The Citra hop is by far the most popular hop used in IPAs, and is one of the most grown hops in the United States. It is the foundation of new-age beers right alongside hops like Galaxy, Simcoe and Mosaic.
However, besides being one of the best-known hops, I had no other information about it. As it turns out, when I started digging around the web I found a lot of information about this exceptional hop.
The Origin
Gene Probasco, who led the hop breeding program at John I. Haas for 39 years originally created the plant that would eventually become Citra back in 1990. Gene crossed two unnamed varieties and formed what was known as X-114 or HBC 394 for years. While the two hop varieties directly used to create it were unknown, their parentage included American Tettnanger, Brewer's Gold, Hallertau Mittelfrüh, East Kent Goldings and an unknown variety, most likely an American wild hop.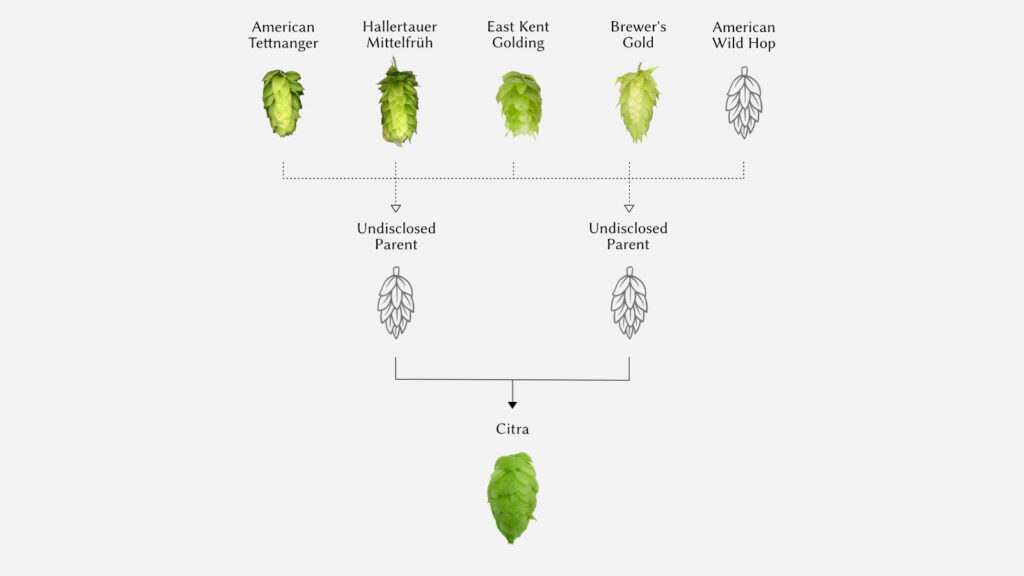 A single plant was selected by hop farmer Jason Perrault in 1992 and then expanded to a test plot of four plants in 1993. This plot was located in Washington state. The evaluation went so well that by 2003 it was expanded to 21 plants. It would be more than four additional years before the hop would be ready for commercial tests.
Some hops don't take more than a decade to evaluate. In fact, some high-alpha varieties can be commercialized in half that time, but one as complex as Citra took a bit longer. Aroma hops typically force breeders to take their time in perfecting – and stabilizing – it's… well… aromas. This new hop had such a unique mix of citrus and tropical fruit aromas that it took an especially long time to get it dialed in right.
The Rise of HBC 394 Citra

After over a decade of analysis, testing and tasting, HBC 394 was ready for prime time. In 2007, three big breweries invested in the hop and got exclusive rights to the use of it. The funding came from the Widmer Brothers, Sierra Nevada, and Deschutes.
The hop instantly proved it had staying power.
The Widmer Brothers won a gold medal in the 2008 World Beer Cup with the hop and instantly signed a 5-year purchase agreement to continue their supply. Sierra Nevada created the Torpedo IPA and Hoptimum Imperial IPA with the hop, which instantly became favorites. Deschutes created their still-popular Fresh Squeezed IPA with it. This hop was quickly becoming a go-to hop for brewers.
In 2008, HBC 394 was finally given a proper name by Perrault: Citra.
It was first tracked by the USDA with 98 acres in 2009, but thirty years later Citra is now the largest hop being grown in the United States by acreage. In 2019 Citra was being grown on 9,035 acres, which amounted to 15.4% of all US hop acreage.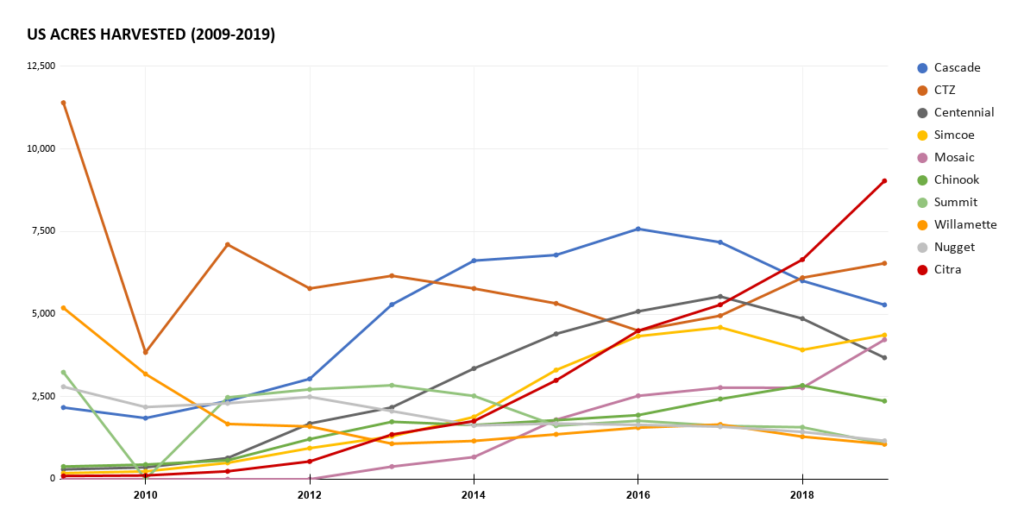 Chart data sourced from USA Hops Annual Reports.
Citra overtook Cascade as the most grown hop in 2018 and has yet to relinquish that title. However, acreage shouldn't be confused with total harvest production. Citra's production still sits comfortably behind the combination that is CTZ by just under 5 million pounds.
Regardless of that statistic, this hop has quite a ride over the last three decades. It has redefined what could be expected out of a hop. It helped push IPAs to the forefront of craft brewing popularity with its extreme citrus flavors. While other hops have lately gotten more hype – like Galaxy and Nelson Sauvin – this variety has shown that it isn't going anywhere.