Highest Alpha Acid (AA%) Hops
Alpha acids (α acids) are chemical compounds of the Humulus lupulus (or hop) plant. These acids are found in the resin glands of the flowers of the hop plant and are the source of hop bitterness. Alpha acids mostly contribute this bitterness when they are isomerized in boiling wort. The degree of isomerization and the amount of bitter flavor produced by the addition of hops is highly dependent on the length of time the hops are boiled. Longer boil times will result in isomerization of more alpha acids and thus increased bitterness.
The alpha acid content of hops is determined in a lab. The ASBC method for measuring alpha acids in hops involves several reagents and a spectrophotometer. This is not an easy thing to do at home with homegrown hops.
It is important that every hop has slight differences in alpha-acid content from year-to-year. Growing conditions, age and location all can change a singular hops AA%. Because of this, it is important to adjust the amount of hops in a recipe to account for the same amount of IBUs.
While the calculation of IBUs is a bit complex, the idea of the adjustment is not. If the recipe calls for a higher AA% version of the hop than what you have, you will need to increase the amount (usually in ounces) to make up for the lost IBUs.
Bittering Hops and Alpha Acids
All bittering hops are high in alpha acids, as they are the main source of bitterness in beer. Longer boil times will result in isomerization of more alpha acids leading to increased bitterness. The amount of bitterness in beer is measured in International Bitterness Units, or IBU for short.
Although beta acids do not directly contribute to a beer's bitterness, they are important when compared to the amount of alpha acids in the same hop. Today, most bittering hops have Alpha-to-Beta acid ratios of 3:1 or more. Aroma varieties have closer to a 1:1 relationship. The ratio of alpha to beta acids dictates the degree to which bitterness fades during aging.
Top AA% Bittering Hops
Pahto
When used as a bittering addition hop, Pahto provides a very neutral flavor to beer, and a pleasant, smooth bitterness. The aroma profile of the hop cone is described as herbal, earthy, woody, and resinous with some fruit….
Alpha Acids: 17-20%
Beta Acids: 4.5-6%
Cohumulone: 26-32%
Country: USA
Purpose: Bittering
Total Oils: 1.0-2.5 ml/100g
Profile: neutral, herbal, earthy, clean & smooth
Learn More →
For those of you who have followed some of other data analysis, it should be no surprise that Pahto is at the top of this list. Pahto is the fastest growing hop (by acreage) in the US. It is a very high alpha hop variety that delivers a clean and smooth bitterness when used early in the boil.
The Apollo is a very common hop for use in bittering IPAs. Lately however, it is also starting to be used more in late additions. Brewer beware though… more than once it has been known to impart oniony aromas when used in the dry hop.
Top 15 Bittering Hops with the highest Alpha Acid (AA%)
Aroma Hops and Alpha Acids
Alpha acids don't have an impact on the aromas added to beer. This function is exclusively left up to the oils and variety of the hop. However, a hop's AA percentage does have a small impact on whether any bitterness is added when used in the dry hop.
Humulinones are oxidized alpha acids and create about two-thirds as much bitterness as iso-alpha acids (which are created during the boil). This bittering compound is unique because it is beer-soluble and is absorbed fairly quickly during dry-hopping.
Dried hops with a higher Hop Storage Index (HSI) have a higher concentration of humulinones, and thus have the chance to contribute added bitterness during the dry hop. HSI is commonly used as a useful indicator of hop freshness for growers and brewers.
HSI: Less than 0.30 = good quality
HSI: Within 0.30 > 0.40 = acceptable quality but the lower the better
HSI: Greater than 0.40 = questionable quality
The reason we bring this up is that there is a strong correlation between higher AA% hops and their HSI indicator, as shown in this study by Hopsteiner. Bottom line is that higher AA% hops have a better chance at adding bitterness during dry hopping.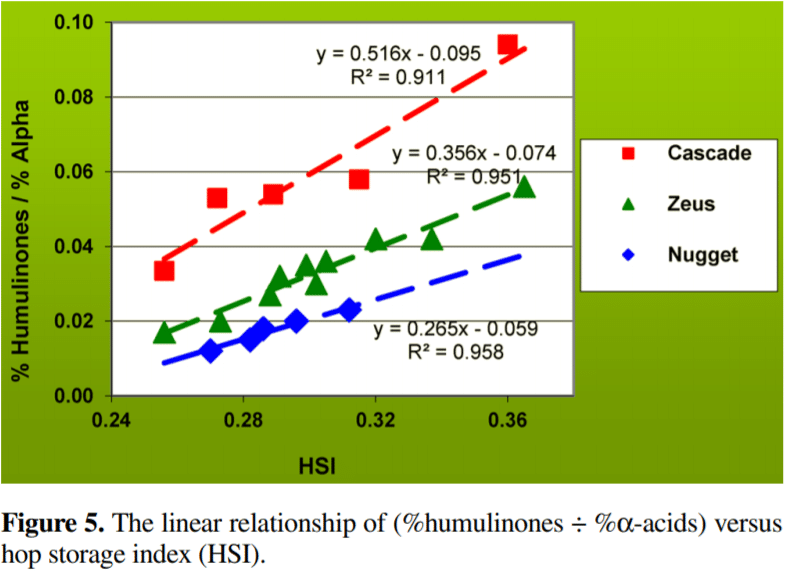 Top AA% Aroma Hops
Older aroma hops all had low-to-medium (4-8%) alpha acid percentages. This held true for decades until higher AA% hops started being created for use within craft brews. In the table below, you can see a lot of commonly used aroma hops that have extremely high alpha acid percentages. Very few these hops are "older" varieties and all have been created within the last decade or so.
To create this list, we looked at hops that were only classified as 'Aroma'. We ignored all dual-purpose hops for this table. Out of this list Sabro, Ekuanot, Idaho 7 and Nelson Sauvin are probably the most commonly used, and are probably some of the most-sought after hops around.
Sabro
The Sabro hop has complex and distinct fruit and citrus aromas. It also has a unique blend of tangerine, coconut, tropical and stone fruit flavors underscored by hints of cedar and mint. Sabro proves to be a strongly expressive hop that translates it…
Alpha Acids: 12-17%
Beta Acids: 4.0-7.0%
Cohumulone: 20-24%
Country: USA
Purpose: Aroma
Total Oils: 1.8-3.5 ml/100g
Profile: citrus, tangerine, coconut, tropical fruit, stone fruit, cedar, mint, cream & herbal
Learn More →
Top 15 Aroma Hops with the highest Alpha Acid (AA%)
Top AA% Dual-Purpose Hops
Polaris
Polaris hops have aroma descriptors that include mint, pineapple and menthol….
Alpha Acids: 18-23%
Beta Acids: 4.5-6.5%
Cohumulone: 22-29%
Country: GER
Purpose: Dual
Total Oils: 4-5 ml/100g
Profile: mint, menthol & pineapple
Learn More →
Many dual-purpose hops have alpha-acid percentages between 8-15%. Dual-purpose hops don't have a specific use cases that are any different from strictly aroma or bittering hops. This designation simply means that it can be used as either an early boil or late addition.
Top 15 Dual-purpose Hops with the highest Alpha Acid (AA%)