How the Pacific Northwest Hop Yards Survived the 2020 Wildfires
2020 has been quite the year.
Sure, it started off benign enough. In late January, we had the first cases of COVID-19 reported in the US in Washington state. By March most of the country was shutdown and in economic turmoil trying to stop the spread of the virus.
Then we piled on murder hornets (again, in Washington state no less), a historic hurricane season and some of the largest wildfires this country has ever seen.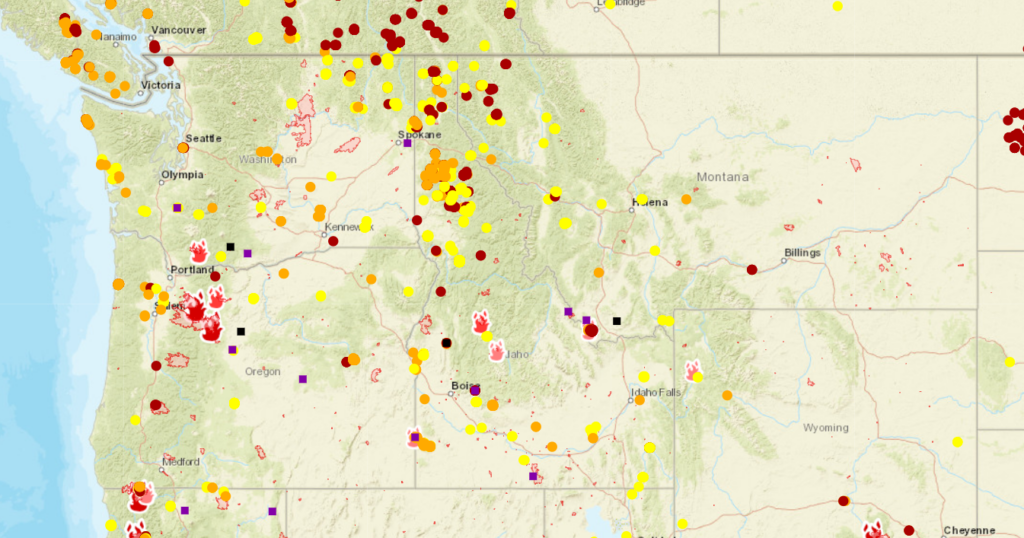 Many of these wildfires were located on the west coast. California got hit hard just as it always does, but Washington, Oregon and Idaho got hit pretty hard too. Seeing as how over 99% of all US hops are grown in the Pacific Northwest, we wanted to see how the wildfires impacted the 2020 crops.
Any shortage in crop yields could spell doom for the unstable craft beer industry we've all come to love. Many smaller breweries have been treading water since March when the first lockdowns took effect. Increased material costs could easily spell doom for them.
Bad Timing
Incredibly, hop harvest season coincided with the height of wildfire season this year. Hops are typically harvested between late August and mid September. Farmers found themselves in a precarious position. After putting eleven months of work into their fields and crops, they could see it all disappear within hours.
The area's largest producer – Yakima Chief Hops (YCH) – get the majority of their hops from independent family farms across Oregon, Washington and Idaho. YCH is the main producer of essential IPA hops such as Simcoe, Mosaic, Azacca and Ekuanot.
Thankfully we have not been able to uncover any hop farms that reported direct or major wildfire damage. However, smoke was a different story.
Smoked Out
Smoke from the over 50 Pacific Northwest fires reached as far east as New York City. Nearly every single hop yard in the area was engulfed in thick smoke at the most crucial point in the year: harvest time.
This is a huge problem as hops are obviously known for their aromas, so any deviation in could prove catastrophic. Even if their fields didn't burn, hop yards could see their crops destroyed by smoke.
As it turns out, 2020 was actually no different from prior years.
Wildfires also raged in the same areas during the 2017 and 2018 seasons. This experience allowed hop producers like Yakima Chief Hops to be prepared for what occurred this year.
In late September, YCH scientists combined sensory analysis with analytical data gathered from laboratory research and determined that the smoke did not have a negative impact. They were unable to find any differences in the flavors, aromas and quality of their hops after they were harvested.
Oregonian independent hop yards also felt the impact from smoke.
Sodbuster Farms in Salem and BC Hop Ranch in Woodburn shared photos of their hop yards engulfed with dark orange haze from the nearby wildfires. BC Hops mentioned that while they would have preferred to wait out the high wind and thick smoke, they had to harvest during this "Armageddon". If they had waited out the weather, the hops would have over ripened and went bad anyway.
Some may ask why we kept going through it all. The hops were ripe and ready for the picking, they weren't waiting for the wind, fog and smoke to leave. They were ready to pick and would of just got over ripe and went bad if we would of waited much longer.

BC Hop Ranch
Many hop yards reported extremely difficult harvesting conditions, but no adverse effects on crops. Most hop farms don't have the resources to do the same type of aroma analysis as YCH, but one could safely assume that their analysis covers all hop yards in the area.
Changing With The Times
Due to global warming, many hop producers and farms are changing with the times. Coleman Agriculture CEO David Henze said that they are beginning to bring many of their facilities inside, away from the open air. This will allow them to process hops away from any smoke that may be in the area.
Other farms such as Goschie Farms in Willamette Valley, Oregon are simply learning to work with Mother Nature instead of against her. However, one has to wonder not only how sustainable this approach is, but if smaller farms even have a choice.
Between 2016 and 2019, the price of a pound of hops fell from $5.72 to $5.68. While minuscule, these amounts are amplified when millions of pounds of hops are harvested each year. With hop prices going the wrong direction, many family farms simply don't have the resources to make wholesale changes to account for the man-made disasters that didn't exist when the farms were originally founded.
Crop Year Results
The John I Haas company noted in a September 15th release that the impact of high temperatures and strong winds from the PNW wildfires resulted in a reduced hop yield. This was due to the hop cones that didn't finish or were knocked off the vine or trellises by winds. They now expect their hop yields across the Pacific NorthWest to be average to below average with total supply near that of crop 2019 levels.
While hops have had quite the year in 2020, it appears the result is about as good as anyone could expect. Unfortunately it may be months before we know for sure if brewers across the country notice any off flavors stemming from the wildfire smoke.
It does appear that all the extra work harvesting the smoke has not dramatically increased prices. Fresh hops are usually slightly pricier than the prior years' and it is no different now. Mosaic – one of the most notoriously expensive hops – is only about 10% more expensive this year, which is on par with normal pricing.
Featured photo courtesy @yakimachief