The Science Behind Identifying Hop Aromas
For centuries, there was no uniform method was ever put in place for describing the flavors and aromas of specific hops cultivars in beer. As the commercialization of hops grew in the late 20th century, so did the wild attributes used to describe them. Often, the same hop sold via different sellers had competing descriptions, completely opposite to each other.
Initial Aroma Identification
In 2011, the BarthHaas Group (BHG) sought to fix this issue with the help of Frank Rittler. Frank is a world-renowned perfumer based in Düsseldorf, Germany with over 30 years of experience working in the fragrance industry. BHG wanted to expertly tease out the attributes of the many different hop varieties they had access to.
Mr. Rittler and his team processed an initial sample of 49 hop varieties from Europe, the USA and Australia with a mortar and pestle while "sniffing" them. After this first sampling, they agreed on twelve descriptors, all with attributes that really represented the hops themselves.
In 2018, the BarthHaas Group (BHG) introduced their sensory Hop Standards, a uniform Sensory Language specifically for hops and hoppy beers called HOPSESSED®. It is based on those 12 aroma categories initially noted by Mr. Rittler.
The Oils That Create Hop Aromas
Essential oils and other compounds contained within the hops combine to be largely responsible for the unique aromas each variety is known for.
Oil composition is determined by a gas chromatography process done in a lab. There are three oils that are the most prominent and well-known in hops.
Myrcene (β-myrcene) – Most associated with citrusy and resinous-pine aromas. This oil is the most abundant of all the oils in hops. It is also the most potent of all the oils since it has the lowest odor threshold (13 ppb). High myrcene hops include Amarillo, Citra, Simcoe and Cascade. The evaporation temperature of myrcene is 147 °F (63.9 °C).
Humulene (α-humulene and α-caryophyllene) – A natural terpene most associated with black pepper, earthy and woody aromas. Most associated with woody and pine aromas, but hops with higher amounts tend to be more floral, herbal, and black pepper in character. Hops high in caryophyllene percentage include Vanguard, Perle (GR) and East Kent Goldings. The evaporation temperature of humulene is 210 °F (99 °C).
Caryophyllene (β-caryophyllene) – Flavors added by this oil include black pepper, spiciness and herbal. The evaporation temperature of caryophellene is 262 °F (129 °C).
Farnesene (α-farnesene and β-farnesene) – Most associated with floral aromas, but also with slight notes of woods and citrus. Hops high in farnesene percentage include Tettnanger, Sterling and Saaz. The evaporation temperature of farnesene is 203-257 °F (95-125 °C).
12 Hop Aroma Categories
Every category gives examples of specific flavors and aromas within it. You can find hop varieties with specific aromas with our Hop Aroma Search.
Floral
Aromas: elderflower, chamomile blossom, lily of the valley, jasmine, apple blossom, rose, geranium, carnation, lily, lilac, lavender, osmanthus.
Compounds Responsible: rose oxide, geraniol, geraniol acetate, citronellol, neral
Citrus
Aromas: grapefruit, orange, lime, lemon, bergamot, lemon grass, ginger, tangerine, pomelo
Compounds Responsible: alpha-terpineol, limonene, linalool, citral, decanal
Tropical/Sweet Fruits
Aromas: banana, watermelon, honeydew melon, peach, apricot, passion fruit, lychee, dried fruit, plum, pineapple, cherry, kiwi, mango, guava
Compounds Responsible: 2-methylpropyl hexanoate, ethyl 2-methylpropanoate, sec-amyl acetate, ethyl caproante, ethyl 3-methylbutanoate
Stone/Green Fruits
Aromas: pear, apple, quince, gooseberry, white wine grapes
Compounds Responsible: decanal, cis-3-dexenal, d-3-carene, 2-dodecanone, hexyl 2-methyl-propanoate
Berries & Currant
Aromas: cassis, blueberry, raspberry, blackberry, strawberry, red currant, black currant, wild strawberry, cranberry, mulberry
Compounds Responsible: beta ionone, 4-mercapto-4-methylpentan-2-one, ethyl 3-methylbutanoate, raspberry ketone, p-metha-8-thiol-3-one
Cream & Caramel
Aromas: butter, chocolate, yogurt, honey, cream, caramel, toffee, coffee, tonka bean, vanilla, coconut
Compounds Responsible: methyl decanoate, Y-nonalactone, vanillin, phenylacetic acid
Woody Aromatic
Aromas: tobacco, cognac, barrique, leather, woodruff, incense, myrrh, resin, cedar, pine, earthy
Compounds Responsible: humulene, alpha-pinene, beta-pinene, farnesene, carvacrol, beta-caryophyllene
Menthol
Aromas: mint, lemon balm, sage, camphor, menthol, wine yeast, eucalyptus
Compounds Responsible: carvone, terpinen-4-ol, camphene
Herbal
Aromas: marjoram, tarragon, dill, parsley, basil, fennel, cilantro, rosemary, thyme, green tea, black tea, mate tea, oregano
Compounds Responsible: myrcene, humulene, epoxide, p-cymene, cis-b-ocimene, thymol
Spicy
Aromas: lovage, pepper, chili, curry, juniper, aniseed, licorice, fennel seeds, clove, cinnamon, gingerbread, coriander seeds, nutmeg
Compounds Responsible: beta-caryophyllene, eugenol, 2-isopropyl-3-methoxypyrazine, beta-eudesmol
Grassy
Aromas: fresh cut grass, hay, tomato leaves, green pepper, nettle, cucumber, bamboo leaves
Compounds Responsible: E, Z-2, 6-nonadienal, cis-3-hexenol, trans-2-hexenal
Vegetal
Aromas: celery, leek, onion, artichoke, garlic, wild garlic, radish
Compounds Responsible: diallyl sulphide, dimethyl disulfide, s-methylthiohexanoate
How to Read our Hop Radar Chart
Beer Maverick shows nine of the standard 12 categories on a radar chart for most of the 200-plus hop varieties we have in our database. We've renamed or shortened a few to make them a bit more descriptive, but they all match up with the BHG standards. As more hop manufacturers begin to adopt these standards, we will update our radar chart to match. As of now, only the new (or updated) BHG hops and few others are using the full 12-category standard.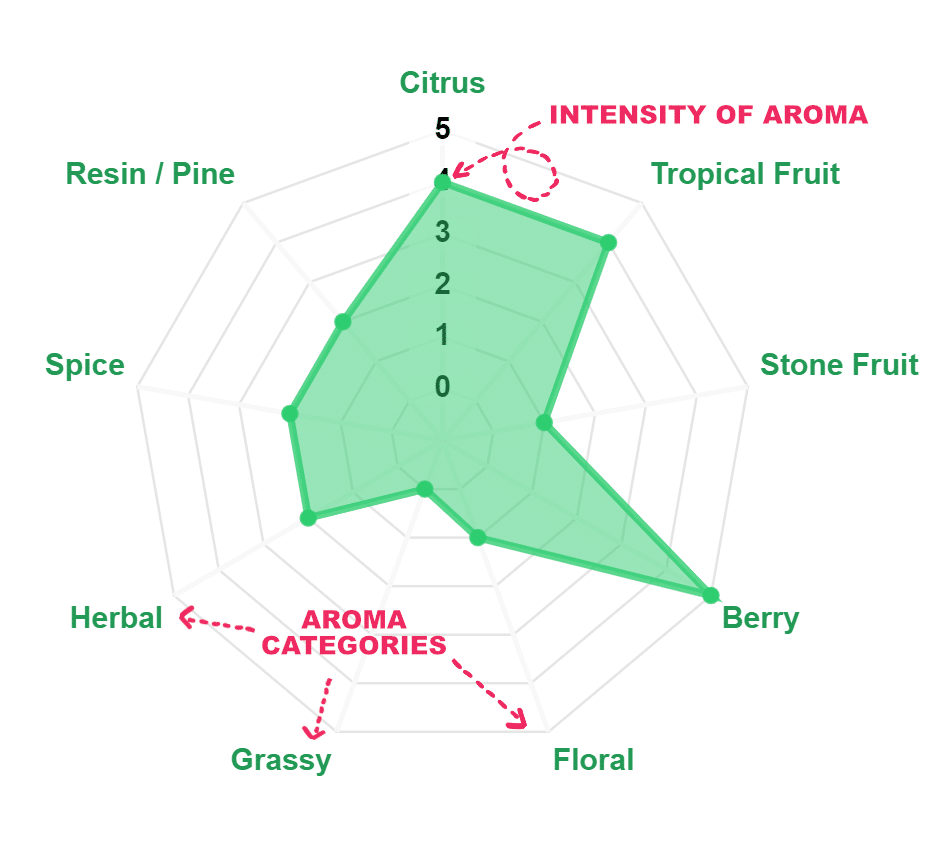 The radar chart above – from the Simcoe hop – shows the two parts of our aroma radar chart. We have adopted this type of chart to visualize the intensity of each hop aroma category.
Aroma Categories – The categories on our radar chart match up with the Barth-Haas Group's official list.
Aroma Intensity – Each hop has a unique aroma profile that we've ranked from 0-5, based on the intensity of the aroma for that particular hop.
Be Your Own Perfumer
If you've decided to grow your own hops, then you know how hard it is to identify their unique smells. Commercial hops are all grown under perfect conditions with arborists tending to their every need. This is how they keep a Citra hop always smelling like a Citra hop should.
However, you likely don't have these strict processes in place, leading to less intense (or even cross pollination) of the hops grown in your own yard. In order to accurately test for specific aromas in your homegrown hops, Barth-Haas has created the Hop Aroma Standards Kit, available for less than $40 USD on YakimaValleyHops.com.
The Hop Aroma Standards Kit contains 12 individual aroma vials each representing one of the aroma categories that comprise the 12-point Barth-Haas sensory language, originally created by Frank Rittler.
This kit is perfect for brewers of any size, from hobbyists to professionals, who want to refine their language and knowledge about the various aromas that present in hops.