12 Unique & Awesome Gift Ideas for the Beer Aficionado in 2023
If you happen to have a craft beer drinker that you need to give a gift to, look no further than this list. We've scoured the web for some of the unique gifts that anyone would be proud to give to a loved one. Birthday, Christmas, Easter… I, personally, don't think it matter much. Anyone that drinks craft beer will absolutely love any of these gifts.
From posters to beer-infused foods to subscription boxes – we have you covered. Most of these products are well under $50 each (even with shipping!), so you won't need to break the bank to give a gift everyone will love.
I've personally tried two of these – Tavour and the Stone Mustard Set – and will be soon purchasing a few more for myself as well. These gifts are so unique that we guarantee that your loved one will be blown away when they open the box.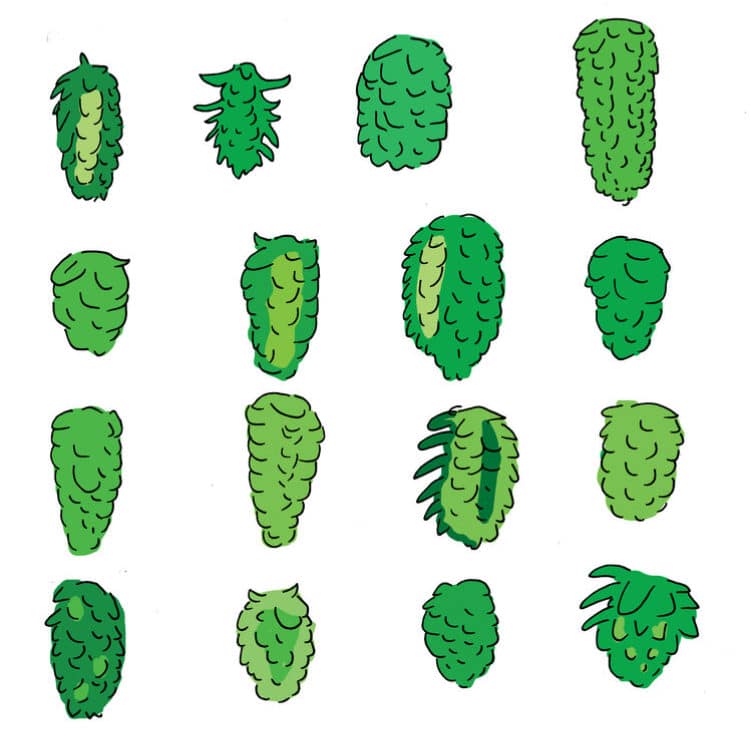 Hops Print
This hand-drawn item from Pints and Panels is printed on glossy poster paper and displays twenty hops from all around the world. There are multiple sizes of this print, but the large poster (18″ × 24″) is the one to get. They've also drawn a handful of other beer-related images like individual beers, hops or charts.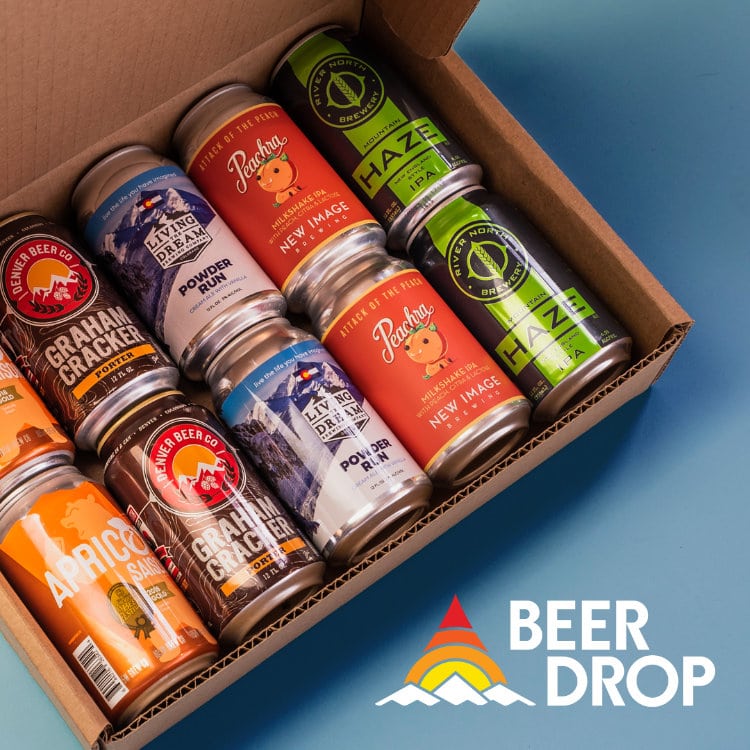 Beer Drop Subscription
Beer Drop offers monthly personalized boxes full of craft beer from award-winning microbreweries. All subscriptions come with flat $5 shipping and are commitment free. Gift cards for 1 to 12 month subscriptions are also available. Use the link below to get $10 off your first subscription order of $45+.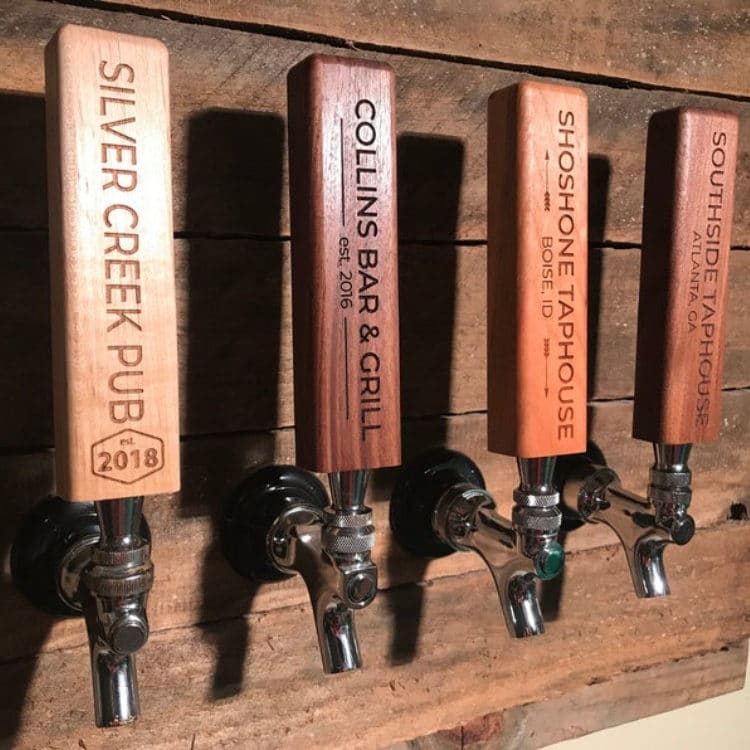 Customized Tap Handles
If your favorite person home brews their own beer and has a kegerator, they need a custom tap handle. This seller on Etsy offers personalized tap handles in Walnut, Cherry and Maple in any one of their 4 designs. Add up to 256 characters to this customized handle for less than $20!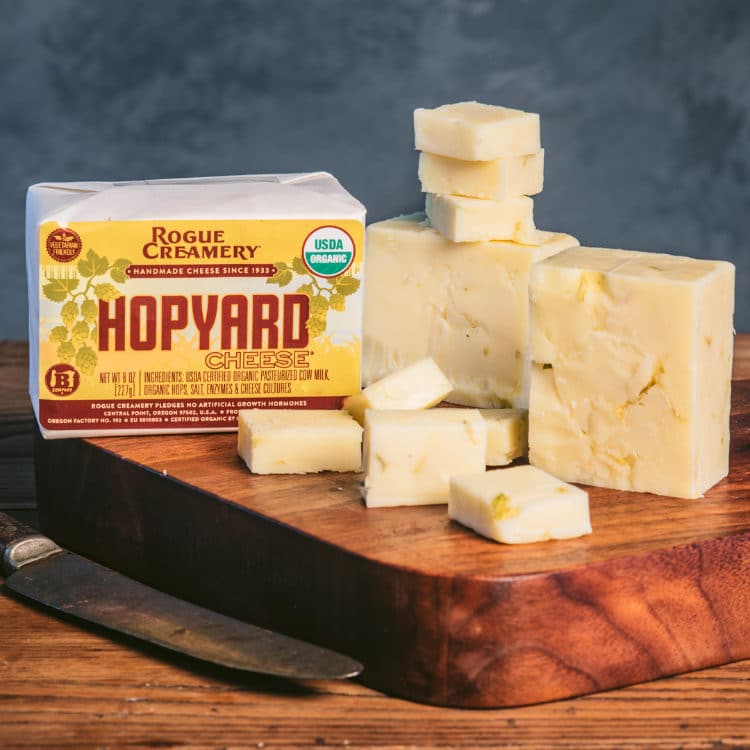 Rogue Creamery Cheeses
Hops and beer from neighboring breweries located in Oregon come to life inside artisan cheeses from Rogue Creamery. Hopyard Cheddar has hop blossoms stirred in with the curds to create a floral, herbal cheese. Chocolate Stout Cheddar uses beer from nearby Hopworks Urban Brewery to create a malty, sweet cheese that is a fan favorite.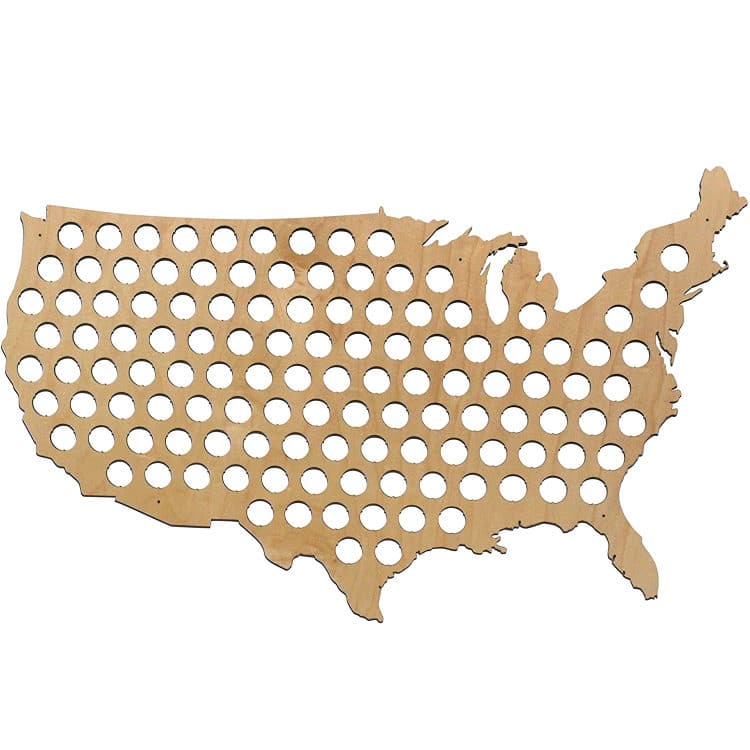 USA Beer Cap Map
This large (30″ × 18″) maple map of the USA can hold 120 bottle caps that get collected as you try new breweries from across the country. This wooden map cutout comes with mounting hardware and is the perfect way to make use of all those unique bottle caps you've been collecting throughout the years!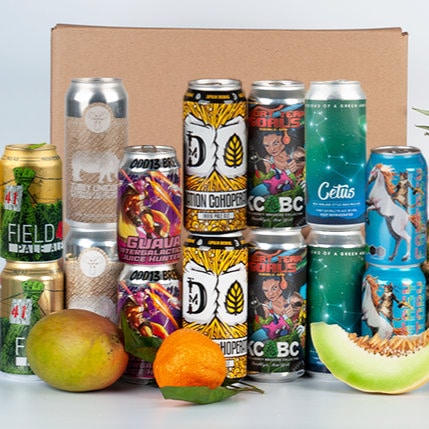 Tavour Gift Box
Tavour is an app that allows you to buy hard-to-find beers from around the country as they become available. Their competitive pricing and flat shipping costs make a great way to customize a beer pack for your favorite person. If you want to take the easy way out, they also have multiple styles of gift boxes that come stocked with some of the best beers anywhere.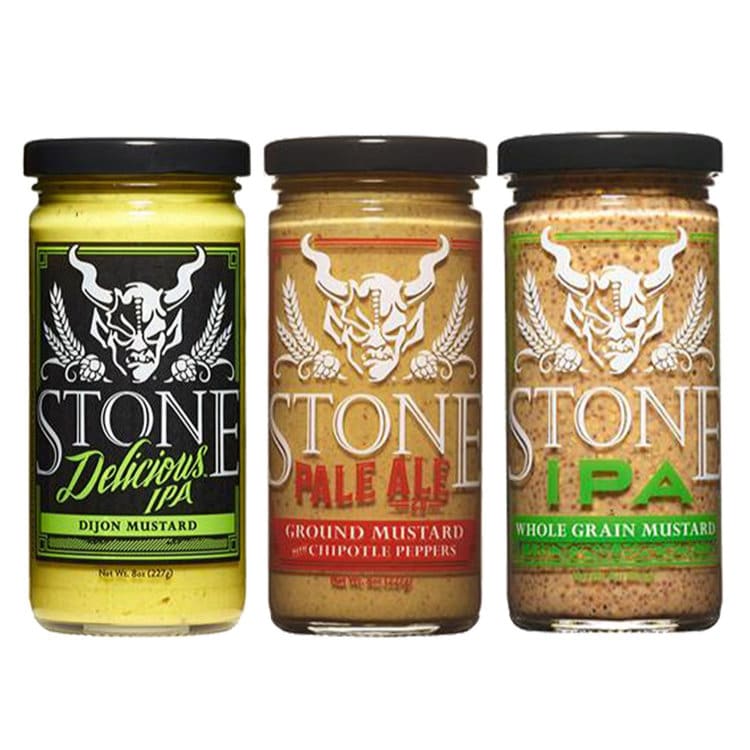 Stone Mustard Set
I purchased this for myself a few years ago, and it was some of the best mustard I'd ever had. Stone Brewing makes some amazing beers, and their mustards are not too shabby either. This three pack of ale-infused mustard will work on anything from sandwiches to pretzels.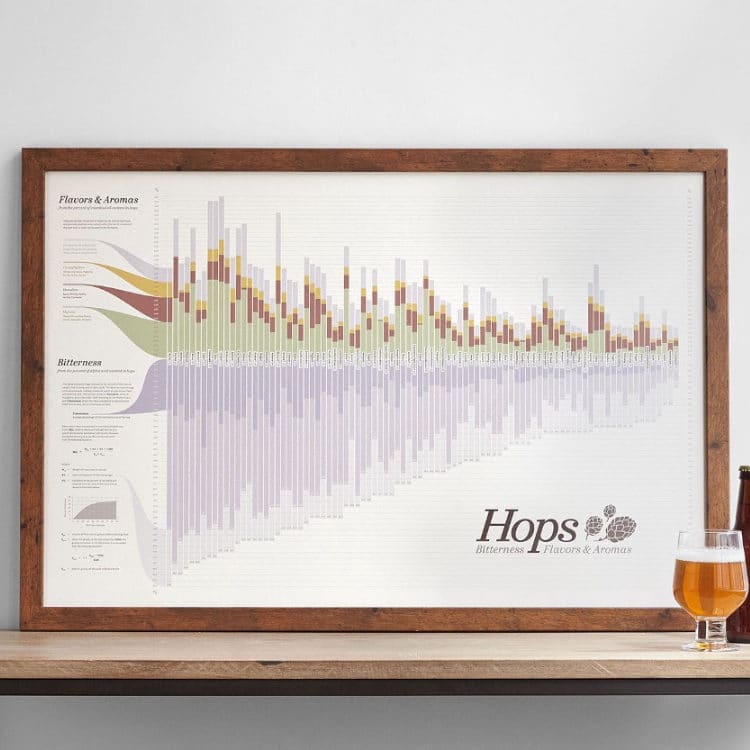 Hops Chart
Hops Chart from Data Supply Co. is a beautiful yet massive (36″ × 24″) poster that displays ninety of the most popular beer hops by oil content, alpha acid percentages, bitterness and country of origin. This unique visualization comes printed on heavy cover stock. You can even learn how they made it.
Save 15% with the code EM15
Northern Brewer Homebrew Kit
This all-in-one kit from industry leader Northern Brewer includes everything you need to start brewing beer at home today, including a brew kettle and a Chinook IPA recipe kit. This is similar to the kit that got me interested in homebrewing, which has quickly become one of the most picked up hobbies during what has been a challenging year of staying inside.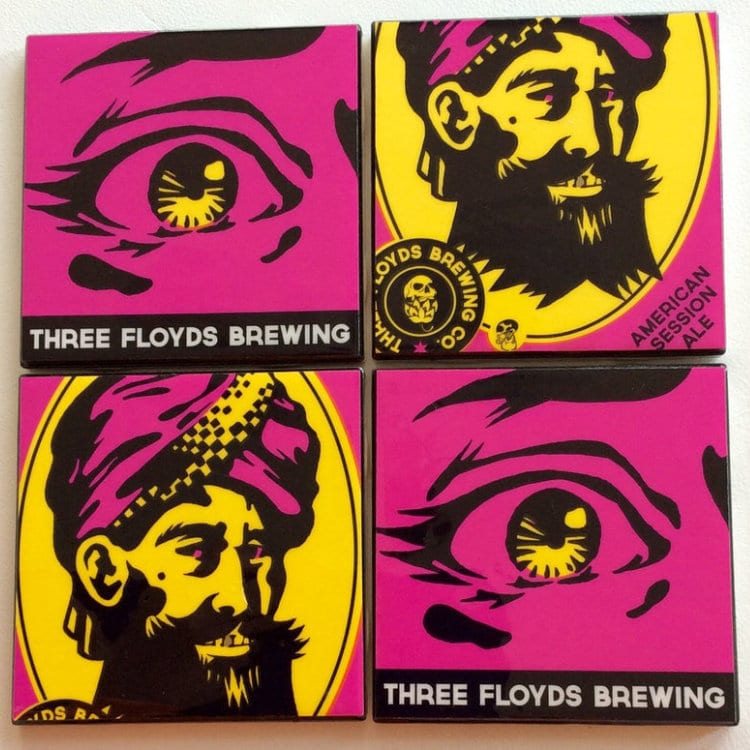 JustForBrew Drink Coasters
JustForBrew upcycles craft (and not-so-craft) beer labels into an awesome 4-pack of drink coasters. Choose from any of his over 40 different styles or request a custom set of your favorite brewery. These coasters are shipped in bubble wrap and will arrive just in time for holiday gift-giving!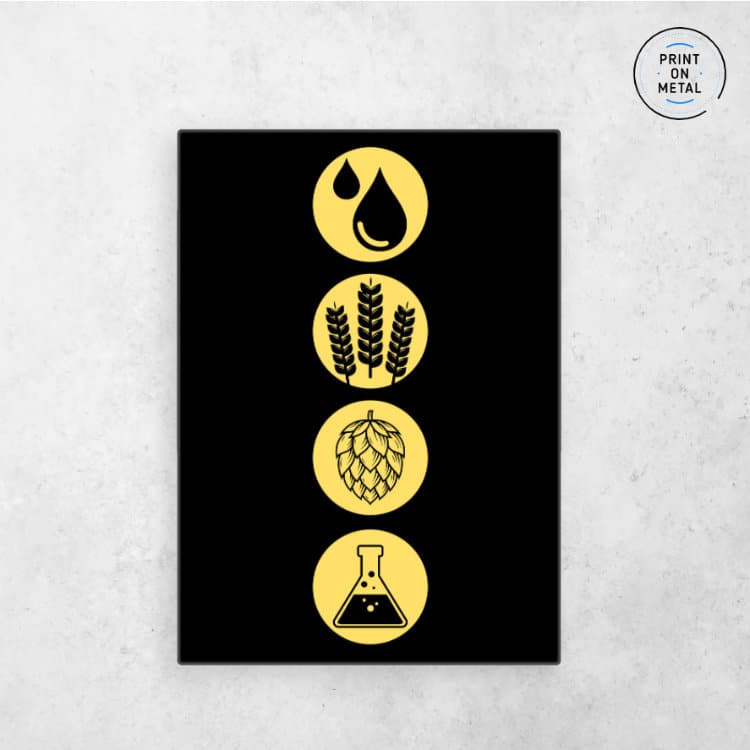 Beer Process Metal Sign
The process of brewing beer is an intricate mix of chemistry, unique ingredients and attention to detail. This sign from Displate depicts that process in a beautiful metal printed sign that is available in three different sizes.
Hint: This site always has discounts prominently displayed at the top of their page!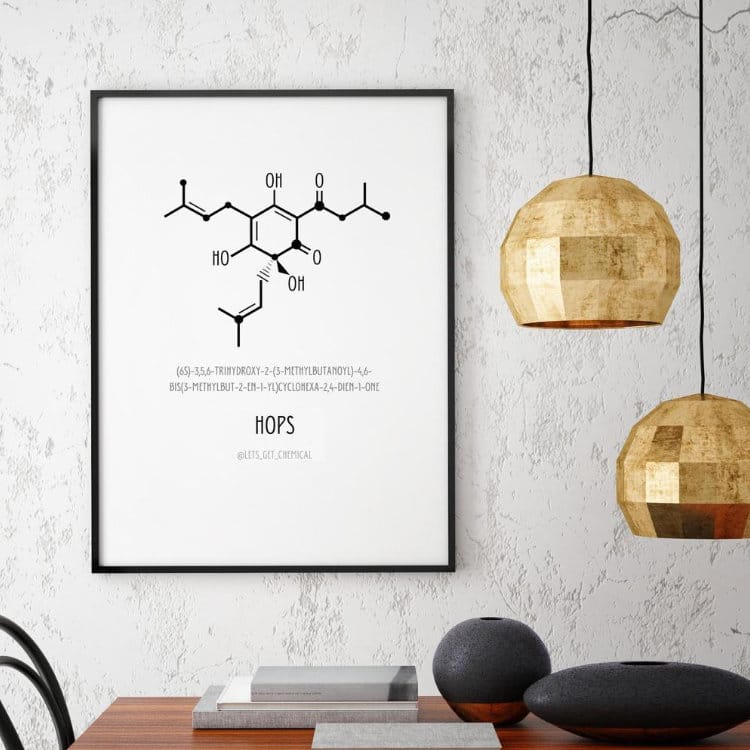 Hops Chemical Poster
This simplistic poster depicting the chemical structure of hops is sure to be a subtle addition to any wall. This classy poster (11″ × 8″) is silk printed and does not come with a frame. But don't worry – the print is cheap enough that even with a frame it'll be less than $35.