You Can Now Invest in Craft Breweries… But Should You?
As you may expect, I look at a lot of beer stuff online and follow a lot of beer-related groups and pages on social media. Somewhere along the line I must have been tagged by ad companies as "someone who loves beer, and want to see ads about every single aspect of it".
Cue the constant stream of ads for companies looking to curate beer packs for me (Tavour, BeerDrop, CraftPeak), brewing technology (Spike) and breweries willing to ship their beer to me directly across state lines (Threes Brewing, HopTea, Tired Hands).
I also found it's now an option to invest small amounts of cash into breweries to help them expand their operations. I first started seeing ads attempting to get me to invest in Full Circle Brewing out of Fresno, CA.
The Struggle
It is no surprise that 2020 was difficult for everyone. As all small businesses were in a world of hurt, restaurants in particular were hit hard due to indoor dining restrictions. While beer is a brewery's main product, food is a huge driver of foot traffic and secondary income. Many small breweries ended up realizing only 15% of their usual revenue during the pandemic. With limited-to-no indoor dining and declining foot traffic, they were forced to find other revenue streams.
It should be noted that your local brewery was never in a financial situation to handle such a downturn. In fact, it is not rare for a brewmaster or head brewer to be earning less than $30,000. Many are in the business simply for the love of it.
So anyway, breweries had to get creative to save themselves.
Many added a shipping model that would allow customers from across their home state (and possibly a few neighboring ones) to get beer mailed to them. The limitations that had been a thorn in the sides of many craft beer junkies, disappeared when all of a sudden it was finally OK to ship beer.
Side note: COVID-19 ruined a lot of things for us, but this is a decidedly fantastic thing to have come out of it.
Others created subscription services to help reduce the amount of people waiting in line for new can release. Take-out became a staple everywhere.
Unfortunately, these new revenue streams were not enough for some businesses. Whether it was simply an interesting new business model, or they just needed an influx of money to stay afloat… many breweries turned to selling fractions of their businesses to investors.
The Pitch
Either directly with breweries like Full Circle, or through an intermediary such as Mainvest, there are no shortage of craft beer investment opportunities around the country. By investing in these local brewers, you help support the craft breweries when they need it most, all while (hopefully) generating passive income opportunities for yourself.
Mainvest is a company that helps aggregate and promote available investment opportunities with small brick-and-mortar businesses in a variety of sectors for as little as $100. A sector that exploded for them recently has been craft breweries.
According to their website, they boast a 95% success rate and target returns of between 1.2-2x investment. Now, that return is pathetically low when compared to the potentials in the stock market (it just hit an all-time high this month), it is still significantly higher than savings accounts, which currently sit near 0.5% APY.
At Mainvest, the pitch is quite simple. If you invest $100, the business agrees to share a portion of their revenue until you have been repaid the multiple they have agreed upon, which at 1.6x would be $160. They are usually given up to 6 years to repay it, and are expected to regardless of their revenue at the time.
Some breweries through StartEngine will actually sell you shares in their company. They try to sweeten the pot by offering extra incentives. Expect to get schwag such as clothing, glassware, signs and growlers, lifetime discounts or exclusive investor-only events or beers, all depending on your purchase level.
Growing Through Investment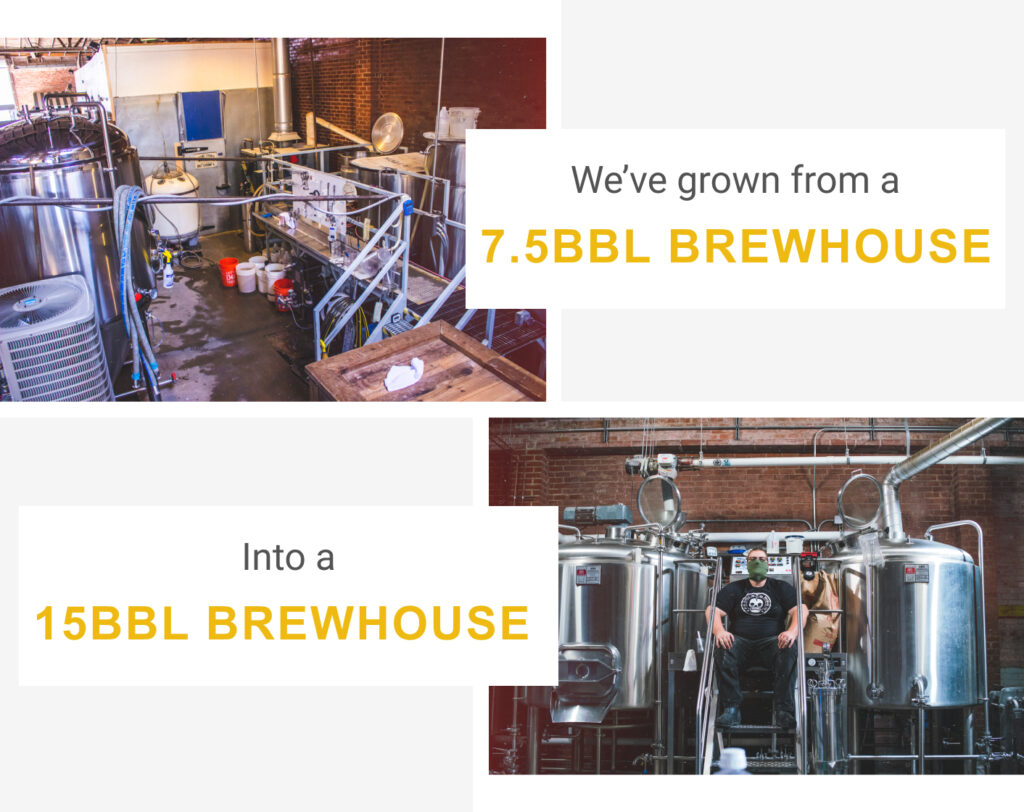 Once breweries receive their funding from investors, many plan to use it to grow their business in new ways that would have been otherwise impossible if they were relying on their own in-store business revenue to fund it.
Full Circle is going to use the nearly $300,000 investment to upgrade their canning line, expand to a larger location and introduce a new line of Ciders and Sours.
Trouvaille Brewing Company is planning to use their $60,000+ to officially begin their journey from home brewers to brewery owners. Their first location in Manassas, VA is slated to open later this year using their brand new Blichmann Engineering brewing system.
There are many other examples, but they all have a common theme: expand and improve. When it comes to craft beer, availability and quality is all that really matters to us anyway.
The Future of Craft Beer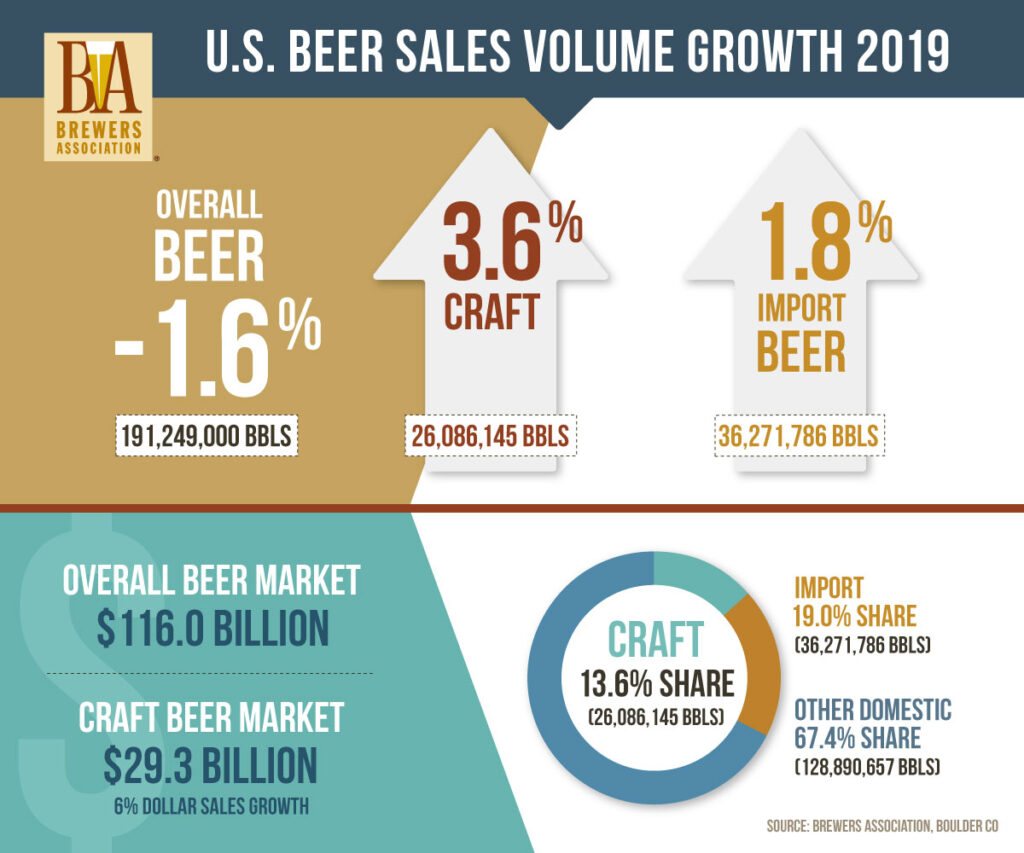 In 2019, retail dollar sales of craft beer increased 6%, up to $29.3 billion, and now account for more than 25% of the $116.0 billion U.S. beer market. This combined with the fact that craft beer production increased 3.6% while the overall beer market was decreasing shows that the appetite for craft appears to be heading in the right direction.
My largest concern is the saturation rate of craft breweries across the United States. At some point there will come a time that we can't keep adding new breweries to the landscape and expect them to flourish. Some will ultimately choke out and become one of the 20% of small businesses to fail this year.
However, there is still room to grow: large corporate brewers still account for almost 75% of all beer sales. The craft-beer bubble may not be this year or next, but be assured that it is going to come at some point in the near future.
Acquisitions are heating up as well. The biggest trend in the industry may be the number of craft breweries that have been bought out by larger alcohol companies. For example, AB InBev has acquired the likes of Goose Island, Blue Point, Breckenridge, and Wicked Weed in recent years. If an independent brewer starts eating into big-alcohol's pockets, you better believe they will sit up and take notice.
Many breweries I found when writing this article appear to have sound business plans in areas that can handle the growth. Your job as an investor is to do your own research and invest accordingly. Of course, you can always have a little too much to drink one night and throw down $200 on a brewery and forget about it for the next handful of years.
We've all done way worse before anyway.
Featured photo courtesy Ardent Craft Ales and their beautiful tap room (that is hopefully no longer empty like in the picture).