My father came for a visit last week, so I toured him around. He wanted to see an RV park in El Centro (he's retired and lives near Toronto, so he likes to come south for the winter). We decided to take the scenic route back, through the Anza-Borrega Desert State Park. I'm really glad we did: It was a beautiful and desolate drive. Along the way, we stopped in Julian for pie and beer. I was happy about this in part because I was wondering when I would have gotten out to visit newly-reopened Julian Beer Co.
Julian Beer Co. had been under renovations for a long time. Their previous incarnation closed in June 2016. In summer 2017, they posted to social media about new brewing equipment arriving for a renovation. They finally reopened at the beginning of July 2018.
The space is nice (in the "rustic" way that seems to be the accepted "mountain" theme) with plenty of seating at large communal tables. They have good graphic and interior design elements. Everything feels clean and sharp. The exterior is welcoming, with trees hanging over the property, a gunslinger-era look, and a disused brewing vessel standing by the path.
Julian Beer Co. serves barbeque and pizza along with beer, which is bound to be a winning combo. The old house in which the business welcomes customers isn't large enough for the drinking/eating area and kitchen plus the brewery, so the brewery is just a couple of doors up the street (in the oldest house in Julian).
If you come to Julian for beer, you'll probably also want to drop in to Nickel Beer Co. ChuckAlek in Ramona just announced that it is closing at the end of July 2018, so get out there soon if you want to say farewell.
On our visit, less than two weeks after re-opening, Julian Beer Co. was serving an impressive thirteen different beers across an unusually wide range of styles, from German Style Pils to spiced apple ale to several IPAs and two farmhouse/saisons, including one that was barrel-aged with cherries. (Latchkey Brewing, for comparison, opened with just three beers–though they are up to almost a dozen now.)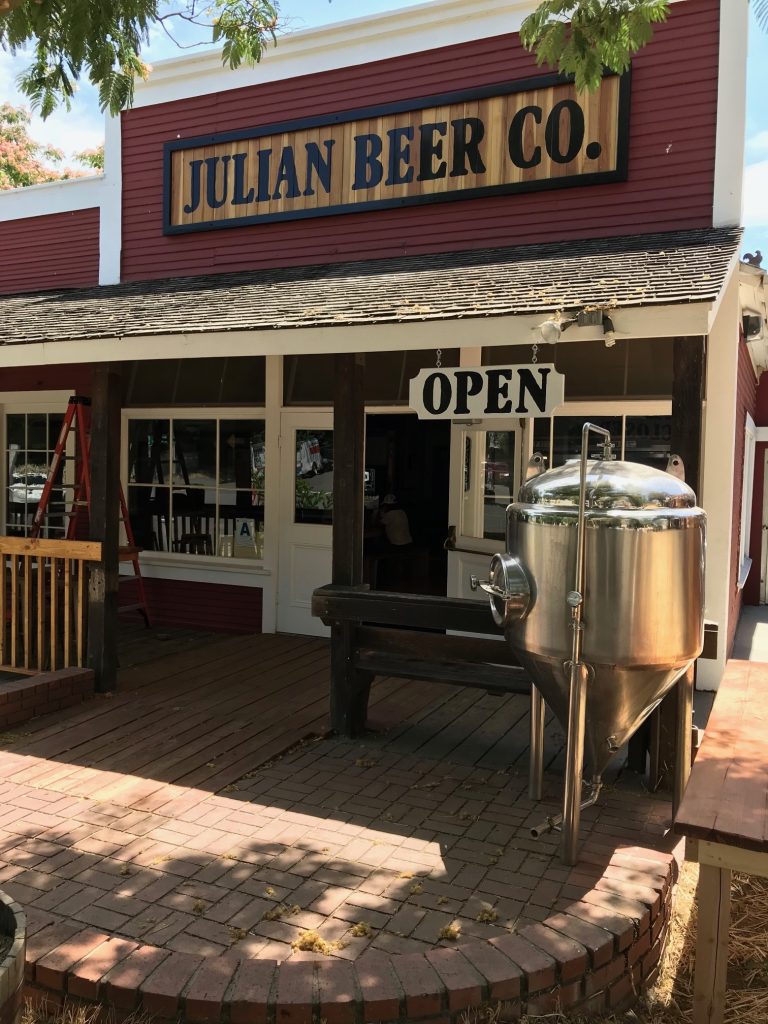 We sampled eight beers between us. It might seem unfair to judge a brewery that has only been open for two weeks, but these folks have actually been brewing a very long time, and not just in the previous incarnation of Julian Brewing Company (note the change of name): owner Vince Marsaglia was a founder at Pizza Port, Port Brewing and Lost Abbey.
That said, my take on the beers we had is that they were well made and had no flaws. A few were quite tasty; some others needed dialing in. Nothing knocked my socks off. That's only to be expected for a new operation, so that's not a strike against them. In fact, they are in better shape than most new breweries. So, I'll reserve final judgment until my next trip out to Julian–next year, perhaps?
http://julianbeercompany.com/ 2307 Main St, Julian, CA 92036