Anvil & Stave (AleSmith Brewing's "Speakeasy"), Miramar
I have reviewed AleSmith's massive, beautiful brewery before, but I had never been to their "speakeasy-like" private-ish tasting room called the Anvil & Stave. It is inside the main brewery building so it isn't really a separate satellite tasting room, but I'm going to treat it like one for the sake of this post–its my blog, I can blog what I want to. Plus, it was my birthday, and birthday boys make the rules.
We ended up doing a brewery tour as well, which is becoming something of an annual tradition for me: Last year on my birthday we toured the Fuller's Griffon Brewery in London, England, home of London Pride and several other iconic English beers. It is hard to compete with that, but AleSmith did. What AleSmith doesn't have in hundreds of years of tradition and quirky old buildings, it makes up for with scale and modernity. The tour, which takes about 45 minutes and costs $10 per person, covers the entire brewing and packaging process. And, perhaps my favorite part, it includes a pint and a keeper glass. We happened to be the only two people on the 4pm tour, so we had a special time. Chris, our tour guide, was excellent: enthusiastic and extremely knowledgeable, eager to answer questions and discuss beer.
New since my last review of AleSmith is the mezzanine/balcony overlooking the main tasting room. It adds a considerable amount of seating, which was needed in this very popular spot. I wish they had added a kitchen, but they have food trucks every weekend.
After visiting the loading dock, grain silos, neatly stacked bags of specialty malts, the ultramodern Krones brewing system, fermenters so large they had to increase the height of the ceiling, the canning and bottling areas (fun fact: a lot of the packaging is done by hand, including washing, drying and assembling the new 24-packs of .394 Pale Ale that will soon be gracing Costco shelves near you), the tour concludes with a stop in the Tony Gwynn museum (a must for baseball fans) and The Anvil & Stave.
Anvil & Stave is a surprisingly small space. The design is meant to remind you of being inside a barrel, with horizonal dark woods on two sides, dim lighting, and a round, ribbed, vaulted ceiling. It is pretty cool. There is hardly any seating, though: perhaps room for ten to sit and ten to stand. There are literally two seats at the bar, which were occupied for the entire time we were there by an older couple who didn't seem to be drinking much. Maybe it is just as well since, when I ordered, the bartender didn't seem very interested in talking about the beer.
The menu in Anvil & Stave is entirely different than what you can get out on the main floor, consisting of a selection of unusual beers and barrel-aged versions of core beers.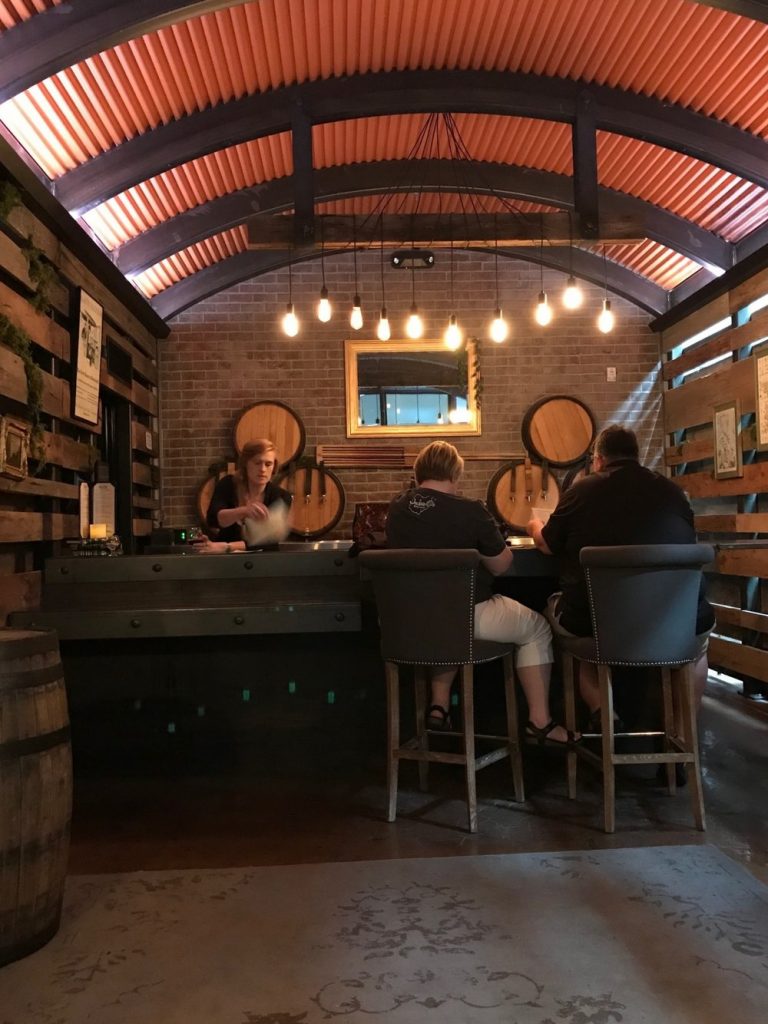 I decided on a flight of four 1.5oz pours of the Speedway Stout variants on offer. Each was aged for between 10 and 18 months in a barrel that had once held a different sort of liquor–bourbon, tequila, tequila plus Mexican hot-chocolate-like spices, and bourbon and sea salt. The regular BBA Speedway Stout was excellent as always. My second favorite was the sea salt variation, which gave an impression of coconut, fig, sweetness and the coffee had completely mellowed out. The chocolate and spice in the Mexican version was very muted–aging didn't seem to enhance those aspects. I'm not a huge tequila fan, but I can only call the tequila-barrel-aged variant a failure. I made a face I don't think I've ever made before, certainly not while drinking beer–I got black pepper, celery and cigarette ash notes. Maybe its just not a beer for me, since it has an average rating on Untappd of 4.13.
My birthday visit to AleSmith confirmed what I already knew: they are one of the best breweries in San Diego and provide an excellent experience for customers. I'll be back again to try some more of the barrel-aged beers in Anvil & Stave. Just maybe not the tequila ones.
www.alesmith.com 9990 Alesmith Ct, San Diego, CA 92126