Beer Advent Calendar Options
I was in a beer advent calendar last year, and it was a fun thing to do during the holidays. My kids get Legos or candy advent calendars, but sometimes a nice calendar for the adults is what's needed.
What is a Beer Advent Calendar?
A beer advent calendar provides you one new beer a day starting December 1st, and through Christmas Eve. Each day, the holder of the "calendar" gets to unwrap and/or open a new beer. This goes on for 24 days.
The beers included in the calendar can be of any style. How it is constructed is up to the creator, and can be all Christmas spiced beers, or specific styles like IPAs. The options are endless, and with the sheer amount of craft beer options available now-a-days, finding 24 different beers won't be very hard.
DIY Beer Advent Calendars
There are two ways beer advent calendars get created: DIY and Purchased.
DIY calendars can either be done as a gift to give someone, or as a group activity consisting of up to 24 different people.
Building a Gift Calendar
If you are building one as a gift, you can go to a bottle shop that sells individual bottles or cans of beer. Once you have 24 beers, wrap them in Christmas paper. Place all 24 freshly-wrapped singles of beer in an old beer case, then label them each with a unique number from 1-14.
Voila. A gift…. and one that would be quite enjoyed by any craft beer drinker in your family!
Managing a Group Beer Advent Calendar
If you are doing this as a part of a group, then you'll need 24 distinct cases of beer coming into the manager, who will then swap out one beer from each case with another. As you can imagine, keeping track of something like this can be time-consuming and can quickly get unwieldy.
This is the type of beer advent calendar I was a part of. A friend of mine has done this with spreadsheets for the last handful of years, and each year I feel worse and worse for him. First, he needs to tell us if a specific beer is unique or not for the calendar I'm in before I buy it. Then, once all 24 cases of beer has been bought, then he needs to get all the cases to his house, so he can do the swapping out.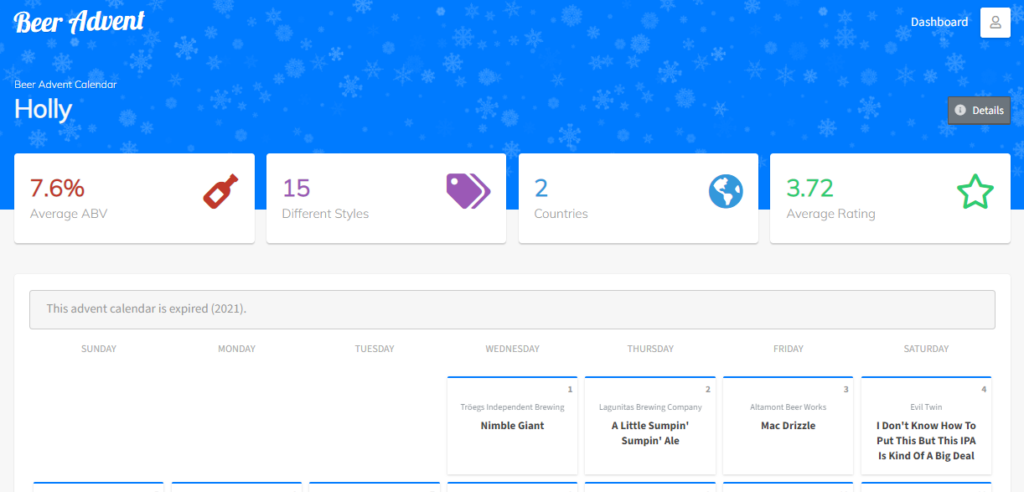 The spreadsheet he was using was impressive, but there had to be a better way. Well, I'm a software engineer at heart, so I got to work throughout December and January and finally came up with what is now Beer-Advent.com.
This beer advent calendar app is free to use and comes with a ton of awesome features.
It is a software that automatically makes sure all 24 days in your calendar are filled with distinct beers. Instructions are clearly outlined, and the opening process (December 1-24) is followed along via a digital browser.
I also integrated with the Untappd API, so details of every beer are clearly shown, and allows us to show statistics of the calendar. This includes the most common beer style, average ABV, the highest rated beer, etc.
As mentioned above, it's 100% free! Manage your own beer advent calendar this holiday season!
Purchased Beer Advent Calendars
The easy option here is to simply buy a premade beer advent calendar.
There are a handful of beer advent options that are also available to buy, and they are almost all put together by breweries. This means a brewery like Southern Tier will pick out 24 distinct beers, label them from 1-24, and ship them as a case of beer.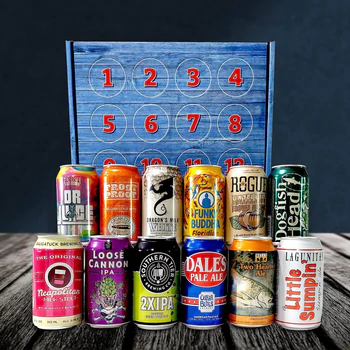 GiveThemBeer.com
This 12 pack of selected craft beers are an awesome and easy gift for your favorite craft beer drinker. The downside? It's $84 plus shipping.
That works out to $7 a beer plus shipping.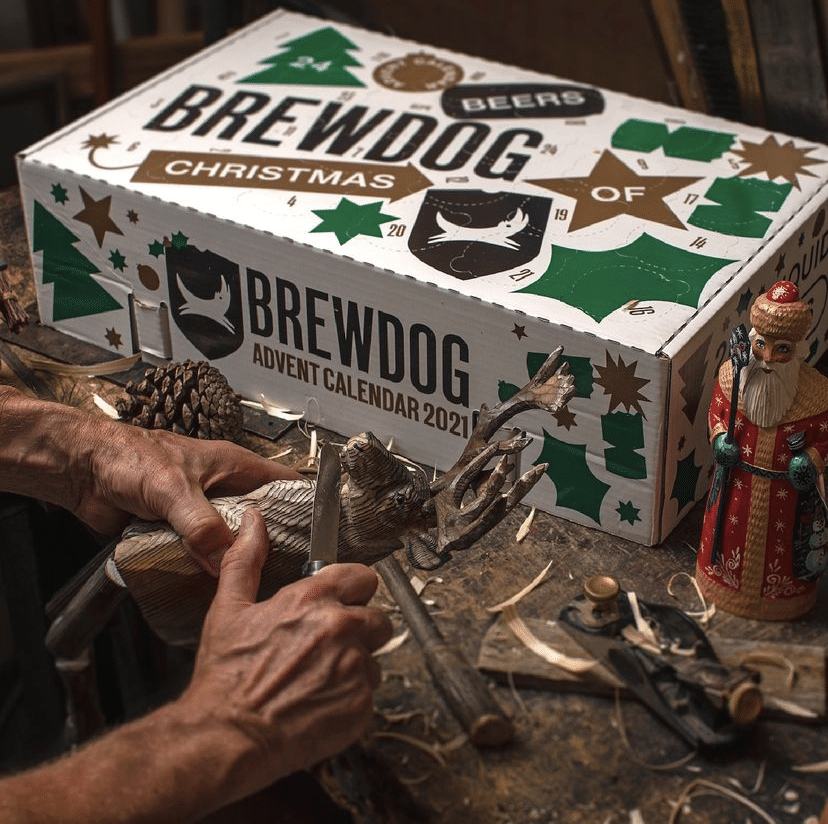 BrewDog
Brewdog finds 24 of their own favorite beers, and puts them in this neatly packaged case. Good luck finding it locally, so you may have to buy it online instead.
Tip: They also have an N/A version too!