San Diego Beer Tour: Downtown Vista
Vista is a brewery heaven.
That's largely because of the foresight of the local economic development team and the city council, who realized early in the craft beer boom that making brewery-friendly policies would be good for their city. They credit the breweries and tasting rooms in the downtown are for sparking a significant revitalization there.
The result is that Vista has 22 craft beer locations (as January 2020). That's more than North Park (14), East Village (11) or even Miramar (16).
Hot take: Vista is the real heart of craft beer in San Diego County.
You can't put 19 breweries and 3 tasting rooms in a single tour, especially since Vista covers a lot of square miles, so I'm going to create some smaller groupings. I'll start with two tours in what is called "downtown" Vista. (It is the commercial center, but don't expect high rise buildings or even all that much traffic. The watchword is "sleepy".)
The "short" tour of downtown Vista is just a 0.2 mile walk and covers four excellent locations. The starting point is very close to the Vista Transit Center, on the trolley line from Escondido to Oceanside. Parking is mostly on the street and not always easy, though the lot at Belching Beaver is pretty big. Beware that these locations all have different opening and closing times. Check the web for up-to-date info on each. You might need to modify the order in which you hit these so as to be able to get them all in one afternoon based on opening times. Links are to my reviews of each.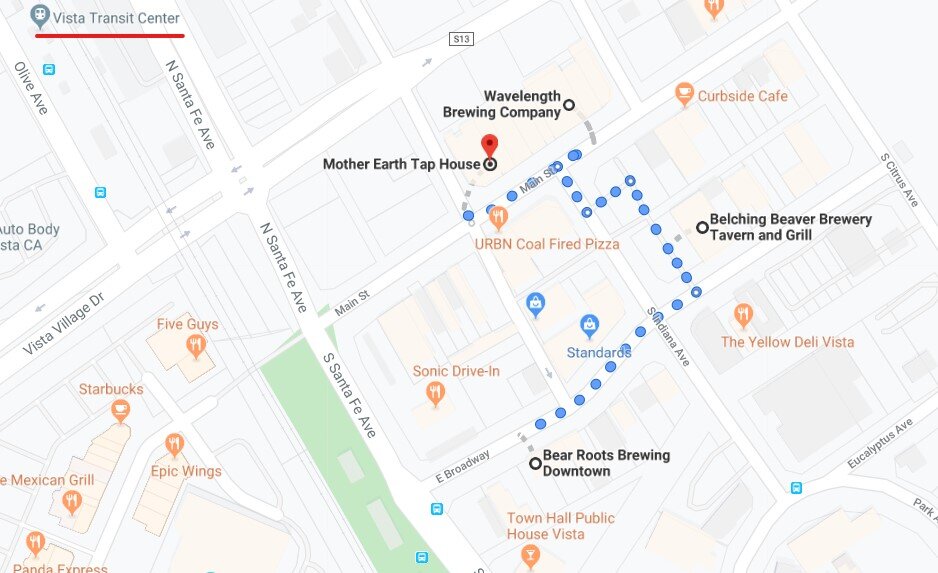 Mother Earth Brewing Tap House — Mother Earth is one of my favorite breweries in San Diego, and they were recognized as one of the ten best breweries in the US (best in the west region) by VinePair. (You have to take such lists with a bucket of salt, but the point stands that Mother Earth makes a wide variety of excellent beer.)
Wavelength Brewing Company — The geeky fun of the decor (astronomy, rocketry, science fiction) combined with dance parties and science talks, makes this a worthwhile visit.
Belching Beaver Tavern and Grill — Belching Beaver makes a bunch of good beer. Most people don't associate them with IPAs, but they are regularly finalists (and twice winners) of the Alpha King Challenge a competition parallel to GABF that awards a prize for the best D/IPA in the USA.
Bear Roots Brewing Downtown Tasting Room — How such a small brewery can turn out so many excellent beers is a wonder. I think that their Bear Cookie is the best peanut butter stout in the county, and therefore probably the country. The only other real contenders are steps away at Belching Beaver and Mother Earth.
At Mother Earth you can order URBN coal-fired pizza across the street and they will deliver it to you in the tasting room. Belching Beaver has a full kitchen. Bear Roots has a neat arrangement where you can order at the bar from nearby restaurants, pay at the bar, and the restaurant brings you the food.
Note to the wise: Bear Roots, Belching Beaver and Mother Earth are the three top contenders for best peanut butter stout in the nation, and you can try all three on this tour!
For the "long" tour of downtown Vista, add two more locations for a total length of 0.9 miles: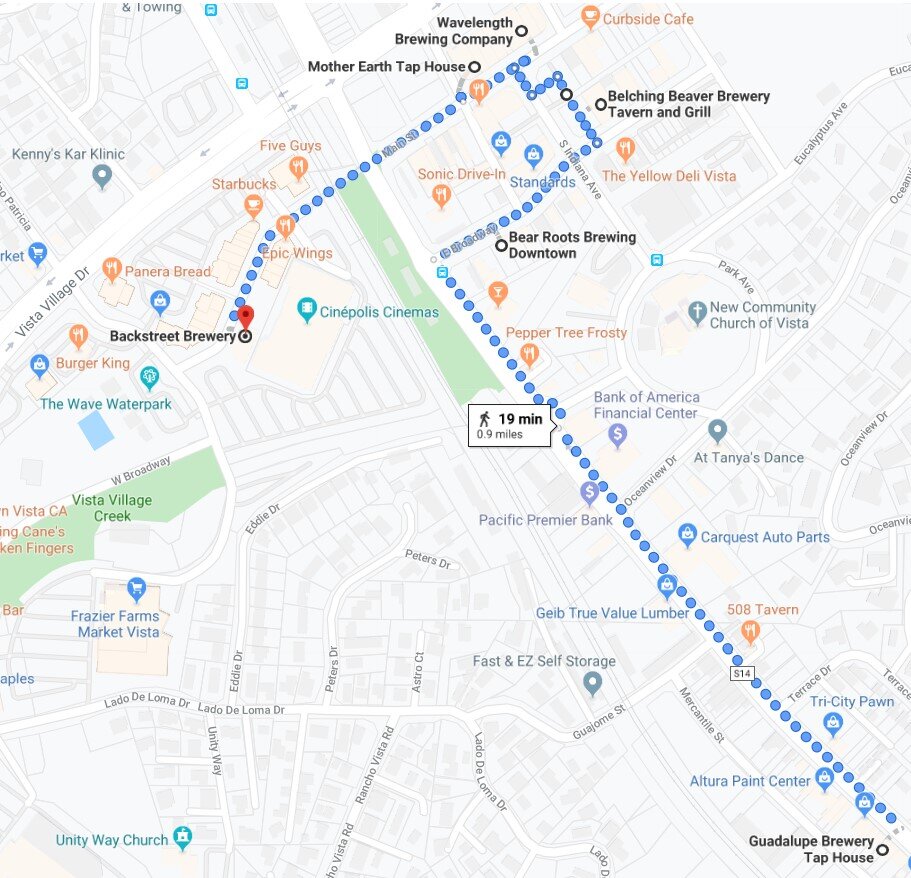 This spot serves pizza and is right next to a movie theater. But unless you are stopping in before a movie, I'd say it isn't worth the 0.2 mile walk across a busy road from downtown to get to.
This tasting room is a half-mile walk from the Bear Roots tasting room in Vista (and only another 0.9 miles southeast to the Bear Roots brewery). Street parking is difficult and the lot behind is small. And they are open very limited hours, so definitely check online before you go. Those limited hours are one reason I still haven't made it to the tap house, though I have tried their beer at the brewery in Carlsbad. (And give me a break, I've reviewed 245 places in the last three years, I can't do everything at once!)