San Diego Beer Tour: Ocean Beach
[Updated June 2019.]
There is an excellent grouping of eight craft breweries and satellite tasting rooms in Ocean Beach. It is a great location for a beer tour because of the vibrant street life, abundance of food options, and proximity to the beach and pier. Parking on Newport Avenue and around OB in general can be difficult and it can get very crowded in summer. The Wednesday farmer's market makes traffic worse, of course. Save yourself the trouble (and a potential DUI after all this beer) by taking a Lyft.
In order of best to least-best craft beer locations (in my opinion, obviously — your mileage may vary):
Culture Brewing OB (tasting room)
Mike Hess Brewing OB (tasting room)
Belching Beaver OB (tasting room)
Pizza Port OB (brewery, food)
OB Brewing (brewery, food)
Two Roots Brewing (tasting room)
Kilowatt Brewing OB (tasting room)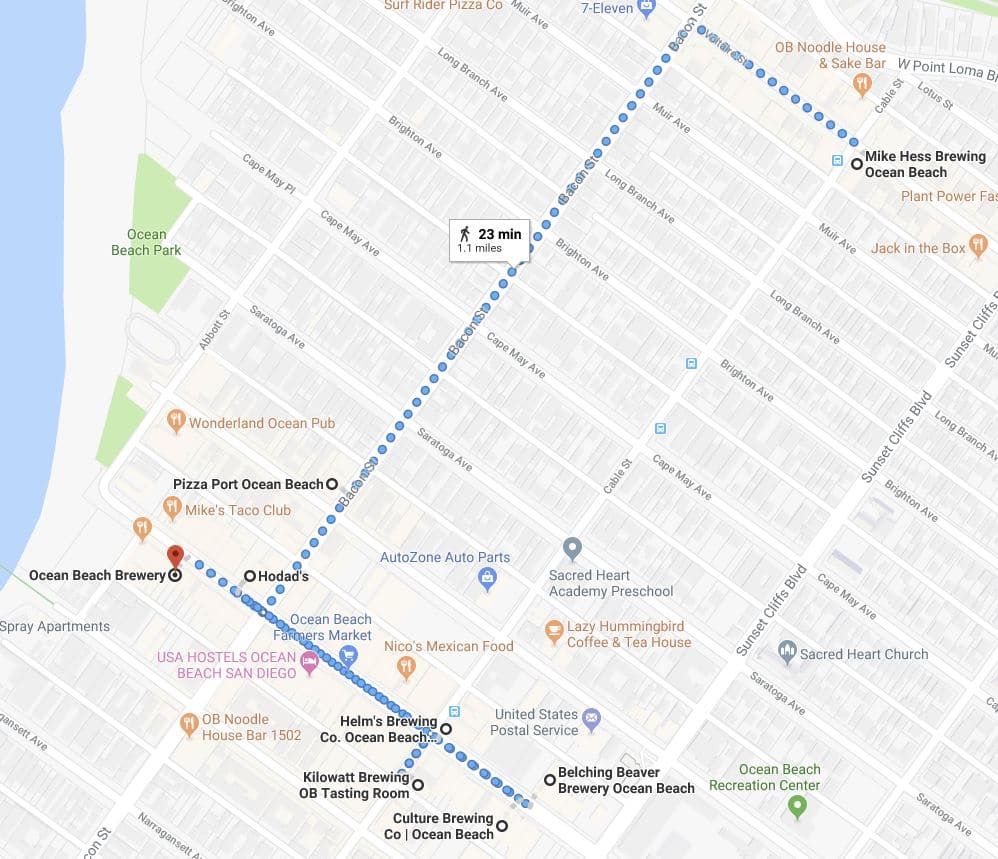 Hodad's OB (food, house beer)
Of those eight, six are on three adjacent blocks on Newport Ave, near the beach. Of those, only OB Brewing and Pizza Port brew on site; both of those also have food and so does Hodad's (the newest as tasting room but longstanding and popular as a divey burger joint). Hess is in a different part of Ocean Beach than the others, but it is only 0.6 miles away. I rate OB Brewing lower because of my personal experiences there, but they won the 2018 Great American Beer Festival (GABF) Best Small Brewpub of the Year award and their beers have won two GABF medals. Two Roots (formerly Helm's) is a no-frills tasting room with good beer and a great open window for people watching, which could be an Olympic sport in OB. Kilowatt has quite a few fans, and their beers have grown on me since I first had them in 2016. Kilowatt won a 2018 GABF medal for their chocolate porter, and their coconut chai porter was the best thing I had at the 2019 Rhythm & Brews beer fest in Vista. Pizza Port is famous and historically important to craft beer in San Diego. They keep winning beer competition medals, too, but most of the time I myself underwhelmed both by their food and their beer — with all the time and success they have had, I think they should be great rather than just good. Taking all this into account, here's my recommended Ocean Beach beer tour:
Start at Mike Hess. Make sure your flight includes Habitus, a Rye DIPA that is one of my favorite beers in the world (also the 2014 World Beer Cup gold medalist for rye beer).
Walk to Pizza Port. Eat here, or at the next stop, Hodad's.
Hodad's is newish and offers seven house beers but no flights. Huge lines. Skip.
Walk two blocks away from the beach to Culture. World class beer, including their GABF medal-winning Brown and Blonde ales.
Cross the street to Belching Beaver. Their Peanut Butter Milk Stout is their most famous beer, but they have awesome IPAs too.
Go back towards the water, stopping at Two Roots.
Cross the street and check out Kilowatt, or come back here for the nighttime partiers after you see the sunset at OB Brewery.
End the afternoon on the rooftop at OB Brewery. You can eat here if needed after all that beer and, even if you are not a huge fan of the beer, the rooftop patio has amazing views of the ocean. You could try to time it for sunset for maximum effect.
Eight locations is too many for one day even if you have a large chunk of time. Hodad's, Two Roots and Kilowatt are the ones to leave out if you need to. You can always come back for a second day. I say Culture and Hess are the two "must do" ones for beer quality, OB Brewing for the patio, Belching Beaver and Pizza Port for beer and history.
An alternative route that is 0.1 miles shorter is this one.