San Diego Beer Tour: Miramar Breweries
[Originally published in January, 2019, this was updated with a few changes at the beginning of 2020. In 2019, Reckless, 2Kids, Align and the Barrel Harbor tasting room all closed in this area. There were no new breweries except the Mike Hess tasting room, the original brewery where they had not been brewing for awhile, is now brewing again. The main campus of Ballast Point is here, and they became a craft brewery again in late 2019 after Constellation brands sold them to a craft brewery.]
There are fourteen breweries and one satellite tasting room in Miramar. That's far too many for a single beer crawl. But almost all of them are excellent, so there are lots of great options for a day out drinking. There's a reason they call it "Beeramar." Check the reviews of each location in the links below to make your own itinerary, or use my "best of" list, below.
Miramar is north of the Marine Corps Air Station, between the 805 and the 15. Depending on traffic and route, it is about a 25-minute drive from downtown. It is mostly a light-industrial/commercial area. There are plenty of restaurants, bars, furniture stores, etc. The area is not walkable, so plan on bringing a designated driver or taking a Lyft if you are going to several breweries. Since tasting room hours change from time to time, you'll need to check brewery websites to confirm. One thing to be aware of is that opening times at different breweries are not always in alignment. AleSmith, for example, is open many more hours per day than, say, Division 23. Plan accordingly.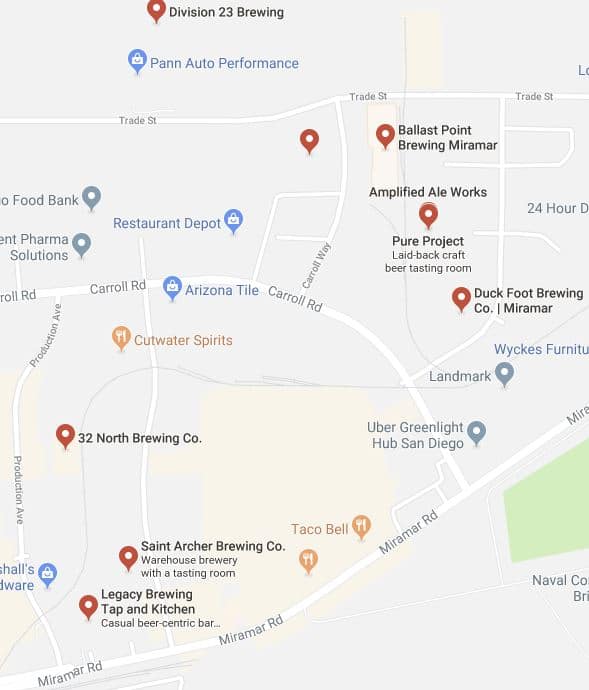 Nineteen Miramar Locations to Visit
The Best of Beeramar
For my money, these are the six best stops for a beer tour of Miramar. These are by no means the only good breweries in Miramar, or even the only six great ones. But they are my personal favorites.
The AleSmith brewery — and now the neighboring CheeseSmith! — is a huge site. The main tasting room is nice but the mezzanine is even nicer, and the small, sort-of-hidden barrel aged tasting room is even nicer still. The $10 tour here is excellent and comes with a beer and a commemorative glass. They offer a wide variety of beers, all of very high quality. There's no kitchen on site, but food trucks are almost always parked next to the large patio.
Mike Hess makes some of my favorite beers. The original Miramar location is now just a tasting room and pales in comparison to their impressive North Park brewery, but it is a worthwhile stop if you are in the area. If you can go to the North Park location instead, that's the better choice.
It is true that Ballast Point was owned by Constellation Brands from 2015-2019, and that made a lot of beer nerds mad. They are, however, San Diego-made beer — excellent beer, in fact, and this headquarters location also serves good food. The bar, restaurant and patio areas are all elegantly decorated with plenty of seating. It is an impressively large operation; you can get a 45-minute tour and commemorative glass for $5 (book online in advance).
If you are at the tiny but mighty Pure Project, it does make sense to go next door to Amplified Ales and just around the corner to Duck Foot (though I think both Amplified's and Duck Foot's locations in East Village are the better ones to visit if you can). One of the big successes of the Brewery Igniters in San Diego, Pure Project has a devoted following for its regular can releases, and they opened a very fancy tasting room in Banker's Hill (near Downtown) in 2019, with another opening in Carlsbad in early 2020.
White Labs is not primarily a brewery, of course: They make the yeasts that brewers use in their beers, as well as other products such as Clarity Ferm that allows brewers to make gluten-reduced beers. Founded and headquartered in San Diego, White Labs has locations in Asheville, Hong Kong, and Copenhagen. For the craft beer lover on a beer tour in Miramar, a stop at White Labs is fascinating. The tasting room is beautiful (much nicer than most breweries!). The tap list includes multiple beers brewed from the same batch of wort but fermented with different strains of yeast. Directly comparing the effects of different yeasts on the same beer is a rare and eye-opening (palate-opening?) opportunity.
The San Diego location of Mikkeller Brewing includes a large and nice-looking tasting room. I think their stouts are the best thing they make, but lately they've been deep into the hazy NEIPA thing, too.
An area within Miramar that is worthy of its own tour: The Miralani Makers District.