The Complete Guide to the "Pacman" Strain of Yeast
Despite searching for well over an hour, I cannot find any statistics showcasing the popularity of different strains yeast used in the US. If such a list existed, and we limited it to Ale strains, we'd expect to see Chico near the top, followed by Boddingtons and Conan. While these three are certainly the most well known to IPA drinkers, there is another called Pacman that should not be overlooked.
Pacman Yeast's Origin and History
Pacman is a proprietary yeast strain that is directly associated with Rogue Brewery of Newport, Oregon. Unlike many other strains of yeast, the origin of Pacman is not disputed at all. In fact, Wyeast specifically labels their 1764-PC strain as "ROGUE Pacman Yeast". Rogue not only contracted with Wyeast to store their proprietary strain, but to also sell it as a part of their private collection.
Former Wyeast Marketing and Sales Manager Jon Graber reported that Rogue had agreed to a limited release of its coveted Pacman Ale Yeast to home brewers in 2006. The press release from Wyeast mentioned how very appreciative they were of Rogue Brewmaster John Maier for allowing the release of Pacman to home brewers. Said Graber at the time, "We hope to have more proprietary strains on future VSS (Very Special Strain) promotions, but this is the one most requested by our homebrewing customers over the past 15 years, so we're very excited that it is the first to be released in this way."
Maier wanted to give back to the hobby that started it all for him. "I give homebrewers all the credit for the growth in craft beer," Maier said. "That's where my roots are, and that's where they're going to stay. And that's my inspiration – the homebrewers."
Rogue Ales was founded in Ashland, Oregon in 1988 by three Nike executives: Jack Joyce, Rob Strasser, and Bob Woodell. The idea for the brewpub came from Jeff Schultz, an avid home brewer (and Bob's accountant). Maier joined the company a year later as brewmaster, formerly of Alaskan Brewing in Juneau.
The company is named after the Rogue River that flows through southern Oregon. In addition to their proprietary yeast strain, Rogue also grows hops unique to them in their owned and operated hopyard in Independence, OR.
Pacman is said to be one of the many mutations of the original Ballantine Ale yeast which also gave rise to Chico and many others.
Profile of Pacman Yeast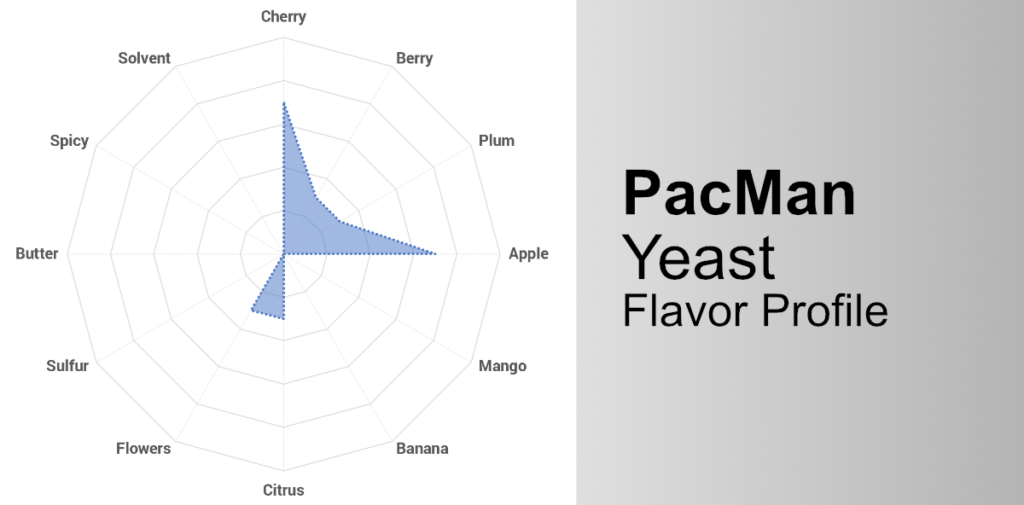 According to Rogue's brewmaster, Pacman yeast loves a 60-degree ferment. It is alcohol tolerant, very flocculent, and it attenuates well. Pacman produces little to no diacetyl during fermentation, leading to a very clean beer. This means that a diacetyl rest is not needed when using Pacman.
Very mild fruit esters complement its dry, mineral finish making this a fairly neutral strain for any ale.
Commercially Available Pacman Yeast Strains
With its nationwide release of 1764 starting in 2010, Wyeast allowed home brewers to use the same yeast as one of the most accomplished independent breweries in the US.
Wyeast Pacman (WY1764) – This is a "private collection" strain of theirs, leading to limited information. The next two strains are the same, and likely cultured from this one.
While not Pacman strains, WLP090, Mangrove Jack's M44 and White Labs 051 are often cited as good substitutes. In fact, M44 is sold with the official Rogue Dead Guy Ale clone kit, making it a sort of an "approved" substitute.
Culturing Pacman From Bottles
The most popular Rogue ale is Dead Guy, but home brewers can't try to culture this yeast from the dregs because it is filtered. If you'd rather grow your own culture than buy it, consider getting a Brutal Bitter or Shakespeare Stout instead.
Fun (Gross) Fact
In 2012, Rogue used yeast cultured from John Meier's facial hair to create a "beard beer" called New Crustacean. Maier's beard yeast is a blend of Rogue's Pacman yeast, and a mix of wild brewer's yeast. It started off as a joke, but when it turned viable, they decided to commercialize it.